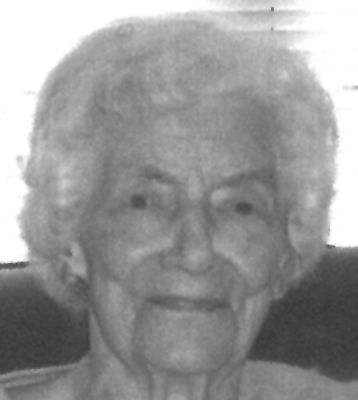 OLIVE LUELLA TOY
POLAND - Olive Luella Toy, 96, died Wednesday afternoon at Masternick Memorial Health Care Center.
Olive was born March 19, 1915, in Vandalia, Mich., a daughter of Mr. and Mrs. Harley Lundy and came to this area when she was 10 years old.
She was a graduate of South High School and a long time employee of Interstate Latex until her retirement. At one time, she worked at Stambaugh Thompson Hardware Store in Struthers.
Olive enjoyed crocheting and playing card games.
Her husband, Edward, died in August of 1972.
She leaves two sons, James (Beverly) Toy of Poland and William (Sylvia) Toy of Upland, Calif.; one sister, Dorothy Koran of Youngstown; seven grandchildren, Kim (Bryan) Ramsey of Poland, Jim (Sue) Toy of Oregon, Melissa Toy of California, Mandy Toy of Arizona, Jerry Bryson of Poland, Sherry Bryson of Boardman and Teri Kilgore of Lordstown; six great-grandchildren; and two great-great-grandchildren.
Besides her parents and husband, Olive was preceded in death by a daughter, Donna Jean Bryson; and three brothers, Clarence, Donald and Eugene Lundy.
Services will be held Tuesday, at 1:30 p.m. at the Cunningham-Becker Funeral Home in Poland.
Interment will follow at Lake Park Cemetery in Youngstown.
Friends will be received Tuesday from 12:30 to 1:15 p.m. at the Cunningham-Becker Funeral Home in Poland.
Contributions may be made to Hospice of the Valley, 5190 Market St., Boardman, OH 44512.
Please visit www.beckerobits.com to send condolences.
Guestbook Entries
"So deeply sorry for your loss. She was a wonderful person. I loved her very, very much."
» Nancy Lancaster on June 25, 2011
Sign the Guestbook
---