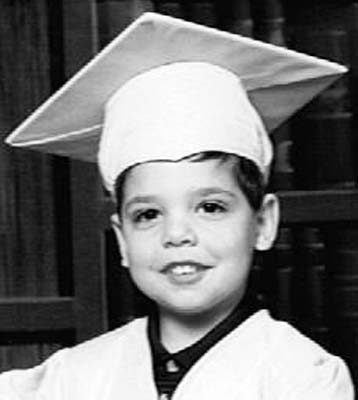 KEVIN M. KOLESAR
CANFIELD – Kevin Michael Kolesar, born March 14, 1994, passed away June 16, 2011.
Kevin had just completed his Junior year at Canfield High School. He was looking forward to entering school in the Fall of 2011, as a Senior.
Kevin had planned on attending Youngstown State University and majoring in Business or Marketing.
Kevin's hobbies centered around his car, a 1994 Chevy Camaro, that he purchased himself after his 16th birthday.
When he wasn't restoring his own vehicle, he could be found helping his friends working on their trucks and off-road vehicles. His love of restoration was inherited and bolstered by his late grandfather, Jacob A. Parish Jr.
Kevin attended events at Yankee Lake with his best friends as often as possible, a tradition started by his late father, Frank W Kolesar III. He was in the process of rebuilding a 1991 Suburban. He had hoped to one day enter in events.
Kevin was employed at Rulli Brothers Market in Austintown. He enjoyed his job, and being a financially responsible young man. He was blessed to work with his uncle, Frank, aunt, Louise, and cousins, Mark, Michael, Frankie, and Nick.
Special thanks to Michael Rulli and John Annichenni Sr. who both took a special interest in Kevin and treated him as if he were their-- own son.
Kevin, a son, brother, grandson, cousin, nephew and friend, enriched all of the lives of each person he encountered. He was always praised for being respectful and polite.
Kevin is and will always be remembered by his mother, Jeanne; brothers, Frank IV, Michael, and Joseph; his maternal grandmother, Marian J. Parish, who resides with the family; paternal grandfather, Frank W. Kolesar Sr.; uncle, John (Brenda) Kolesar; aunt, Ginger (Dave) Bulkey; as well as his great-aunts and uncles, Linda Shutrump, Angela Rulli, Nick (Luann) Rulli, Frank (Louise) Rulli, Tony (Karen) Rulli, Josephine (Ray) Janik, Mary (Jim) Carano; and first cousins, Darby, Tori, and Taryn Kolesar, and Jennifer and Raymond Lonsway.
Kevin was preceded in death by his father, Frank W. Kolesar III; maternal grandfather, Jacob A. Parish Jr.; also his maternal great-grandfather, Jacob A. Parish Sr.; paternal grandmother, JoAnn Kolesar; paternal great-grandmother, Virginia Schmidt; maternal great-grandmothers, Mrs. Dale Rulli and Mrs Leda Parish; and his maternal uncle, Russell A Parish. A special remembrance to his beloved cat, GIGI.
The Kolesar family would like to offer their deepest gratitude to each and every individual who was present with Kevin during his final moments. "It is comforting to all of us, God bless you all. It is my faith that leads me to believe Kevin was welcomed by God, his father, grandparents, and beloved dog, Kasey into Heaven." Sincerely, Jeanne M. Kolesar.
The family will receive friends from 4 to 8 p.m. Tuesday with a prayer service to be held at 8 p.m. by Pastor David Watkins, and again from 10 to 11 a.m. Wednesday at the Lane Funeral Home, Canfield Chapel.
A Mass of Christian Burial will be held at 11:30 a.m. Wednesday at St. Michael Church
Family and friends may visit www.lanefuneralhomes.com to view this obituary and send condolences.
Guestbook Entries
Kevin's Kindergarten Teacher
"Jeannie, my prayers and thoughts have been constantly with you.You know Kevin will always have a piece of my heart. Thank you for sharing him with me."
» Joyce McClay on June 20, 2011
Kevins 1st Bus Driver
"My prayers and thoughts are with all of you. Kevin was a great kid on and off the bus and will be missed by all."
» Launa Lynn on June 20, 2011
Bus Driver
"I was Kevins first bus driver, my thoughts and prayers are with all of you and Kevin is going to be missed by all."
» Launa Lynn on June 20, 2011
"Our thoughts and prayers are with both families (Kevin and Benjamines)May the memory of Kevin live on forever in the hearts of those who knew him."
» A friend on June 20, 2011
"Our prayers and thoughts are with you and your family at this sad time. May God be with you all always"
» Tiberio Family on June 20, 2011
"Our deepest and heartfelt sympathy to Jeanne and family.... Sue , Ashley, Emily and Katie Hunter "
» Susan Hunter on June 20, 2011
"My thoughts and prayers are with you all. Always remember the good times so he is never forgotten. "
» A friend on June 20, 2011
Friends
"Dear Kolesar family, we wish to offer our condolences to you in this hour of sorrow. We will be praying for you all."
» Fred and Kathy Rosko on June 20, 2011
classmate
"Although I was never close with Kevin, I did have a few classes with him and no matter what kind of day I was having he always made me laugh and made my day. Kevin was a truly great kid and my prayers and thoughts go out to you and your family during this time! Kevin will be missed by all when we return to school this fall, but he will never be forgotten and will always be remembered in our school and in each of our hearts! "
» Kayla Sine on June 20, 2011
"I am thinking about you and your family. Try to be strong through the darkness."
» Melissa Booth on June 21, 2011
"Dearest Kolesar Family, You are in our hearts and prayers. May God grant you the strength,comfort and support of your family and friends through this difficult time. "
» Canfield Home Savings on June 21, 2011
"So sorry to hear of your loss. Am a classmate of Frank III and Jeanne from Canfield. "
» Rebecca (Rymer) Lewis on June 23, 2011
"You will be missed so much buddy. You were truly a great kid with a great heart who could make anyone laugh without fail! It was truly an honor to have my last semester of school with you. I will forever remember all the times we hung out in and out of school and the kitty-cat you made and all the times Mrs. B. would yell at us for talking all class about my truck and your camaro! Try not to cause too much trouble up there buddy! Love ya forever, Kevin. "
» Colton W. on June 23, 2011
"May God be with you and your family at this most difficult time. The love and prayers of the community are with you."
» Canfield Resident on June 23, 2011
Sign the Guestbook
---