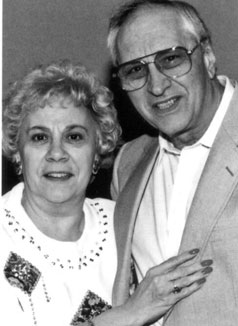 DORA M. MARSCO
"Together Again"
LIBERTY TOWNSHIP – There will be a Mass of Christian Burial held on Thursday, Jan. 13, 2011, at 10 a.m. at St. Edward Church in Youngstown with Monsignor Robert J. Siffrin and Father Tim O'Neill officiating for Dora M. Marsco, 80, who passed away on Sunday, Jan. 9, 2011, surrounded by her loving family.
Dora was born Dec. 27, 1930, in L'Aquela Italy, the daughter of Pietro and Louise Panone DiFranco. She came to America at the age of six and made her home with her father, brother Oresti DiFranco and Rosetta and Silvia Imperiale in Pittsburgh.
She was a graduate of Schenley High School and attended Pittsburgh Business College, where she completed secretarial studies.
On Jan. 20, 1955, she married Michael A. Marsco and moved to Youngstown.
Dora retired from Youngstown Osteopathic Hospital in 1992, where she worked several years in the data processing department.
She is survived by two sons, Michael A. Jr. and Richard (Danielle), both of Liberty. She will be sadly missed by her six loving grandchildren, Michael A. III (Amy), Amanda, Shana, Anthony, Gina and Joseph; two great-grandchildren, Aubrey Lu and Michael A. IV; her brother, Oresti of Pittsburgh; and several nieces and nephews.
She was preceded in death by her parents and her husband, Michael, who passed away Jan. 1, 1998.
Dora was an excellent cook. She loved being in her kitchen serving up homemade Italian specialties for her family, especially Sunday dinners, where Italian music would be playing and the home would be filled with laughter. She especially loved teaching her granddaughters how to prepare Italian dishes.
Family and friends may call Wednesday, Jan. 12, 2011, from 5 to 8 p.m. and Thursday, Jan. 13, 2011, from 9 to 9:30 a.m. at the Schiavone Funeral Home.
Entombment will take place at Calvary Cemetery.
The family would like to give special thanks to Elaine Marks, her caregiver and the Nursing Staff on 2 N.E. Floor at Forum Health Northside Medical Center.
Guestbook Entries
"Mike, Bob & I are both sending prayers to you & your family. Dora was a wonderful woman."
» Georgiann Franklin on January 11, 2011
"Sending our condolences to Michael,Rick,your families and extended families during this sad time. You are in our thoughts and prayers. Nancy and Jan"
» Nancy Roussos on January 11, 2011
"So sorry for your loss, your Mom was a great person. We will be praying for your family."
» Nedra Bacha (Elliott) on January 11, 2011
"Dora was an incredible woman who will be deeply missed. I feel very lucky to have had the opportunity to get to know her. Such a sweet lady. Thoughts and prayers to the Marsco Family!!! Love to all!! "
» Cheryl on January 11, 2011
"Mike~~Your Mom was a great lady~~You and your family are in my prayers"
» Carla Mastropietro-White on January 14, 2011
"Our thoughts and prayers go out to the family. I remember Michael talking about his mothers cooking and how you must use the right tomatoes, along with stories of the old days. When you spoke of her you could tell how special your relationship was. "
» Jamie McAlarney and Chris Morchak on January 14, 2011
Sign the Guestbook
---