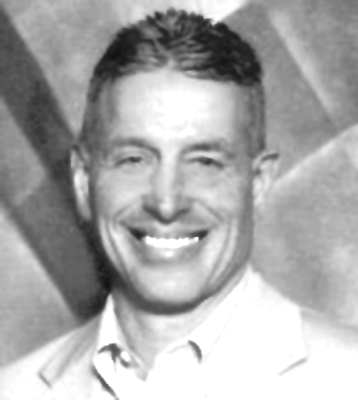 BROCK ANTHONY FERRIER
CANFIELD – There will be a Mass of Christian Burial held on Tuesday, Aug. 9, 2011, at 10 a.m. at St. Christine Church, Youngstown, preceded by a 9:15 a.m. prayer service held at the Rossi & Santucci Funeral Home, 4700 Market St., Boardman, for Brock Anthony Ferrier, 50, who passed away from a courageous battle with cancer early Friday morning, Aug. 5, 2011, with his loving family by his side.
Brock will always be remembered and loved by his family and friends for his motivation skills, his love for life and his tremendous personality.
He was born July 26, 1961, in Salem, the son of Danny and Joan (Frank) Ferrier and was a lifelong area resident.
Brock loved being in sales especially for spending time with all his customers and currently was working with Tiger Pack Inc. as a salesman.
He was a 1979 graduate of United Local High School and then earned his bachelor degree in Business Administration from Youngstown State University.
Brock was a member of St. Christine Church.
He loved his wife and sons with all his heart and he always made them first in his life. Brock was instrumental in starting his son's AAU Basketball League and was very active in the Canfield Boys Basketball Boosters. He also coached and managed Little League Baseball for many years.
Brock enjoyed fishing, hunting, gardening, and was a gourmet cook.
He leaves behind to hold on to his precious memories, his beloved wife of over 23 years the former Linda Murphy, whom he married Oct. 17, 1987; two sons, Jacob and Vincent of Canfield; his parents, Danny (Joan) Ferrier of Salem; two brothers, Masten Ferrier of Salem, and Jarrett (Jodi) Ferrier of Washington, D.C.; his father and mother-in-law, Tom (Mary) Murphy of Poland; and several nieces and nephews.
Brock was preceded in death by his brother, Britten Ferrier.
Friends may call on Monday, Aug. 8, 2011, from 4 p.m. until 7 p.m. at the Rossi & Santucci Funeral Home, 4700 Market St., Boardman.
Burial will take place at Resurrection Cemetery, Austintown.
Material contributions can be made to the Ferrier children's Education Fund at the funeral home.
Family and friends may visit www.rossisantuccifh.com to view this obituary, sign the guest book and send condolences to Brock's family.
Guestbook Entries
Our Condolences
"Linda, we are so sorry for your loss. You and the boys are in our thoughts and prayers. Please give our regards to your parents and also to Brock's family as well."
» Drew and Debbie Wojtkowski on August 7, 2011
Our Condolences
"Linda, Our sincere condolences on the passing of Brock. Our thoughts and prays are with you during this sorrowful time. Sincere sympathy, Mike, Shirley, Michael & Kevin "
» Michael Puhalla on August 7, 2011
"I will always remember the way Brock would walk into a room and just light it up with his smile and outgoing personality. Brock always had a positive outlook for any situation and I will never forget the great advise he gave me over the years of working with him. He was so very proud of his family and his boys and never did a meeting with him not include a great story about them that made him proud. My prayers go out to his family. "
» Mike Beros on August 8, 2011
"Linda, I am so sorry for your loss. My sincere condolences go out to you and your family."
» Brian Lebo on August 9, 2011
Sign the Guestbook
---