Student honored at spring concert

Photo
Neighbors | Jessica Harker.Boardman Senior Sophia McGee performed her Senior Solo May 1 at Boardman's Spring Band Concert.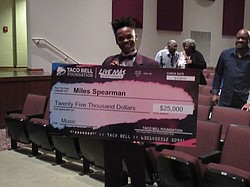 Photo
Neighbors | Jessica Harker.Boardman Senior Miles Spearman recieved a surprise during his final band concert May 1, when representatives from the Taco Bell Foundation came on stage and gave him a check for $25,000 for the scholarship that he won.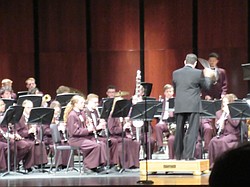 Photo
Neighbors | Jessica Harker.Boardman band members performed in their final concert of the year May 1..
By JESSICA HARKER
Boardman High School student band members participated in their last performance of the year on May 1 for the annual spring concert.
Led by director Thomas Ruggieri and assistant director Timothy Tuite, students performed a number of songs they practiced throughout the year.
"It's a great tradition; everyone enjoys coming out to the concert," said Communications Specialist Amy Radinovic.
During the school's performance a number of seniors were selected to perform their senior solos.
Seniors Danny Turillo and Sophia McGee performed selections that they chose during the performance.
Ruggieri said that usually, one senior is selected to perform a solo in the winter concert, but three students solos were equally as impressive so they were all selected to perform.
Senior Miles Spearman also performed his senior solo earlier in the school year.
"In addition to being amazing musicians, many of these students are extremely successful academically," Ruggieri said.
He explained that Turillo, McGee and Spearman were all recognized as valedictorian this year.
"If you get to know these kids and some of their classmates, you know they are going to change the world," Ruggieri said.
At the end of the emotional performance, Spearman received a special surprise.
Representatives from the Taco Bell Foundation went onto the stage and presented Spearman with a scholarship for $25,000.
Spearman was one of only five students nationwide to receive a scholarship through the group.
More like this from vindy.com