Hilltop third-graders help make children count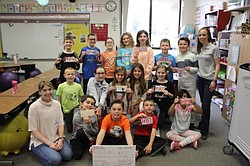 Photo
Neighbors | Abby Slanker.Hilltop Elementary School third-grade students in Marie Rupert's class got a hands-on business lesson during the students' economics project by starting thier own business. The students donated their profits to Project MKC and presented a check to Project MKC co-president Shelly Marlowe, left, on April 12.
By ABBY SLANKER
Hilltop Elementary School third-grade students in Marie Rupert's class got a hands-on business lesson during the students' economics project. The students gained real-life experience by starting their own business called Cardinal Kids.
Cardinal Kids sold a multipurpose item of a backpack tag/bookmark. The students made the items, which were double-sided and included a pocket and was made out of durable material. It also came with a sturdy hook and a bookmark ribbon. On one side, the backpack tag/bookmark had a cardinal head and on the other side, it was personalized with the student's name. Students could even choose red or black as their preferred color.
The third-graders took orders from their fellow Hilltoppers and delivered the final product to their classrooms. They even made thank you cards for their customers.
"The kids voted on this idea just like each class has done in the past. They created each one with the help of parent volunteers. We sold 135 tags and have made a profit of $462.18 to donate. The kids also voted on which organization to donate the profits to and they selected Project MKC," Rupert said.
The students invited Shelly Marlowe, co-president of Project MKC, to their classroom so they could present her with a check of their profits on April l2.
"Thank you so much for this donation. I am so, so proud of you. This is a really big deal. I was probably in ninth or tenth grade when I starting giving back, so you guys starting to give back in third grade is really awesome," Marlowe said
Marlowe went on to explain to the students how Project MKC got started.
"Project MKC started nine years ago. We started small with things like having birthday parties for children in homeless shelters. Then we began to talk to local organizations to see what they needed and what we could do to help them," Marlowe said.
Marlowe then provided details on how Project MKC helps others and how their donation will help others.
"We asked what do you have for kids who have to be placed in foster care. The answer was usually nothing. So we created Comfort Kits, which are age and gender specific and include pajamas, socks, toiletries, a stuffed animal, a fleece blanket and school supplies. So now the child has something of their own that can help them feel more comfortable and maybe not as scared when they go to a foster home. We also have Hope Totes, which are provided to children undergoing chemotherapy at Akron Children's Hospital. The children make a wish list and we go out and shop for them and make special bags for them," Marlowe said.
Marlowe told the children the item that they provide their partners with the most is diapers.
"We provide 46,000 diapers a month to our partners. One-third of people in the United States cannot afford diapers, so we help with that. We also provide food in the summer for families in the free and reduced lunch program, and we provide boots in the fall and spring months. We are kid oriented and try to help out any way we can," Marlowe said.
Marlowe thanked the students for their hard work and being so thoughtful.
"Thank you for taking the time to raise this money and being so thoughtful and caring so much about kids. Your donation will go to help kids like you in the area, and it will make a big difference," Marlowe said.
More like this from vindy.com