Ursuline tennis player finishes 2nd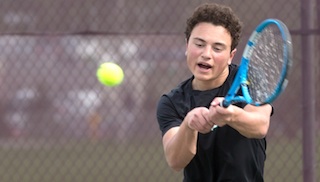 ---
Staff report
MASON
On the verge of the biggest win of his high school career, Ursuline tennis player Greg Morgione was hit with extreme cramping leg pains from Saturday's heat at the Lindner Family Tennis Center
"The heat wasn't bothering me until the match point," Morgione said Saturday of his Division II state semifinal victory over Wellington School's Trevor Ball.
Morgione won the point then sought medical attention from the training staff at the Ohio High School Athletic Association's state tournament.
"I went to get it stretched out," Morgione said. "Every part of my leg was cramping."
Unable to compete, Morgione withdrew from the state final match against Chagrin Falls' Andrew Zimcosky.
It ended up being a thrilling and scary day for the Irish junior, who was playing in his second straight state tournament.
"I tried to walk it off," Morgione said. The pain increased and the tournament medical staff worked on his leg for about 45 minutes.
Then he was taken by ambulance to a nearby hospital.
Morgione was resting and feeling better Saturday evening, but was kept overnight for observation.
Morgione's withdrawal made Zimcosky the Division II state champion. In the other semifinal, Zimocosky defeated Camden Preble Shawnee's Pierce Elliott (4-6, 6-3, 6-3).
In last week's district final, Zimcosky defeated Morgione (6-3, 6-2).
Disappointed he didn't get a rematch with Zimcosky, Morgione was pleased with the victory over Ball (7-6 6-5, 6-0).
"It was probably one of my better matches in my life," Morgione said, adding that Ball was perceived to be the favorite among the final four. "I knew he felt most of the pressure, so I came out playing freely."
Morgione said he as down 5-2 in the first set, then rebounded.
"I ended up stealing that first set," Morgione said.
After Ball won the second set, Morgione sensed his opponent was tiring.
"Emotions were high," he said, noticing that the size of the crowd watching grew in the third set.
Morgione said he's grateful for the care he received.
"They are trained professionals who knew what they were doing," Morgione said. "I really appreciate it."
Today, Ursuline is playing in the Ohio Tennis Coaches Association Team Tournament in Reynoldsburg. Morgione said he's hoping to play.
The other Irish tennis players are Austin Arfaras, Luke Tsudis, Sean McNamara, Glenn Christopher, Gavin Blacksher and Josh Khavari.
In Friday's doubles competition at the state tournament, Arfaras and Tsudis defeated Clyde's Jacob Strudthoff and James Dry (6-4, 6-1). The Irish duo then lost to Indian Hills' Tejas Pisati and Mack Ellis (6-0, 6-1).
In another state semifinal, Khavari and Blacksher defeated Ottawa-Glandorf's Carter Welch and Colin Welch (6-3, 7-5) then lost to Gahanna Columbus Academy's Suriya Sundaram and Rhian Seneviratne (6-1, 6-1).
In singles, Morgione won twice to advance, defeating Miami Valley's Niyanth Reddy (6-4, 6-4) and Waverly's Penn Morrison (4-6, 6-2, 6-2).
More like this from vindy.com