Driving toward another victory?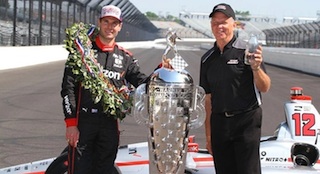 ---
By LARRY SHIELDS
sports@vindy.com
SALEM
Dave Humphrey proudly wears the checkered flag ring he won at last year's 102nd Indianapolis 500 when Will Power sped across the finish line to hand team owner Roger Penske his 17th 500 victory.
The Salem man, a highly regarded member of last year's team, even got a swig of milk in Victory Lane.
Now the 1972 United Local High School graduate would love nothing more than to win another ring today in the 103rd edition of "The Greatest Spectacle in Racing."
With a combined 22 years on the IndyCar and NASCAR (four years) circuits driving semis and merchandise trucks, he has worked with Team Penske since 2000, the past four as Power's motorcoach driver.
Humphrey, 65, recalls attending stock car races at Canfield Speedway with his dad at a very early age, listening to the Indy 500 on the radio and later, competing at Quaker City Dragway in a 1966 Ford GT. He loved the noise, excitement and spectacle.
While attending Ohio Wesleyan University he made it to his first Indy 500 in 1973, the year after Mark Donohue drove the Sunoco McLaren to Penske's first 500 victory.
No, there was no way Humphrey, at 19, could possibly imagine winding up in the diverse supporing role he plays today for the most powerful auto racing team to ever race at the Indianapolis Motor Speedway.
No way, but along the way, when he married his wife, Joyce Jonard, on May 29, 1982, guess where they were the next day - Race Day?
Humphrey's route to Team Penske (FYI alert: the first time Penske, once a driver himself, raced on an oval track was at Canfield) includes a 20-year banking career that he left when he answered an ad in Auto Week magazine for a race manager for Speedgear.
Selling racing merchandise for the largest company of its kind at the time, Humphrey made a little ìswitchrooî and traded in his desk for a 45-foot trailer.
Chasing the dream and it began in April of 1997 when it was literally off to the races with Joyce, then a pre-school teacher, and their youngest son, Garrett, who was 13.
With plenty of room in the truck cab, it was a good way to have a family vacation at the company expense, Humphrey said.
Driving the Newman-Haas Racing and Forsythe Racing merchandise trailer put him in contact not only with drivers Michael Andretti and Christian Fittipaldi but car owner Paul Newman himself, who, Humphrey said, played a mean game of ping-pong.
They posted about 36,000 miles that break-in year, crossing the country from race tracks in Homestead, Fla. to Portland, Ore., from Long Beach to the Irish Hills of Michigan.
The CDL he obtained while at Speedgear opened more doors and word got around. He was associated with Danica Patrick briefly and Humphrey worked the hospitality trailer for the old Indy Racing League for a year.
He expanded his resume putting in a year with the Panther Racing National Guard team that two-time Indy 500 winner Dan Wheldon drove for.
During his NASCAR tours, he wheeled through a mind-numbing late January to Thanksgiving Day 36-race schedule working closely with Sam Hornish (2006 Indy 500 champ) and 2012 NASCAR champ, Brad Keselowski.
"It was intense for its time commitment and being away from home," Humphrey said, explaining he struck up a closer relationship with Power while at the Penske race facility in Mooresville, N.C. about four years ago.
"I had known him. He needed to catch a flight and I drove him to the Charlotte airport."
But instead of driving himself, Humphrey said, "I let him drive and we talked all the way."
Power bought a motorcoach and Humphrey got the driving assignment and he and Joyce have been with Power and his wife, Liz, through the birth of their first child, Beau, who is 2.
Dave is "Grandpa D, and Joyce is Grandma J," he said.
Last year, Humphrey helped with Power's pit crew at Phoenix and was at ground zero race day at Indy where got to drink the milk in Victory Lane.
"I waited 22 years for that," he said remembering just gazing up as Indy's towering pagoda that filled the sky while fulfilling his personal dream.
A photo taken of Humphrey drinking the milk in Victory Lane, a near-sacred Indy 500 tradition, is today a family icon.
"The kids realized the moment — drinking the milk at Indy — and had it blown up," said the father of three and grandfather of five.
Its setting is a family shrine.
Humphrey looks at his checkered flag ring, examining it as if for the first time.
His name, the date and car number.
"What strikes me about this," Humphrey said, "is little me from Salem and here I am. Sometimes I have to pinch myself. I left a banking career, a farm boy took a chance selling T-shirts.
"A regular old Salem, Ohio Dave followed the dream."
Working now as a independent contractor, Humphrey can be seen in Gasoline Alley and the pit area driving Power around in a golf cart.
He said Power wants to make it back-to-back wins on Sunday and "on race day I'll be getting him around and I'll ljust try and enjoy the race."

Humphrey's younger brother, Rev. James Humphrey, served as a pastor in Canfield and died last December after a traffic accident.
Dave and Joyce's three children are Leslie, Devin and Garrett and another Humphrey brother, Don, lives in Adair.


Indy Notes
Power qualified sixth, on the outside of Row 2, and is one of four Team Penske Chevrolet-powered cars that will take the green flag at 11 a.m. today (NBC Sports).
Simon Pagenaud, a Frenchman, won the pole for Team Penske at 229.992 mph.
It was Penske's 18th Indy 500 pole, which will sit nicely next to his 18th Indy 500, if one of his cars wins.
The other Team Penske drivers are Josef Newgarden, the 2017 IndyCar series champion who starts 8th in the middle of Row 3, and three-time Indy 500 winner (all with Team Penske), Helio Castroneves who would like to place himself with A.J. Foyt, Al Unser Sr. and Rick Mears as a four-time winner.
More like this from vindy.com