Cardinal Mooney celebrates distinguished alumni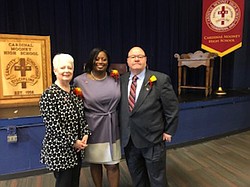 Photo
Neighbors | Submitted.Cardinal Mooney High School celebrated its 2019 Distinguished Alumni, from left, Barbara L. Burgnaux ('66), E. Jewelle Johnson ('90) and Joseph S. Rosky ('73) at a ceremony at the school on April 12 and again at the Celebrate Mooney Auction on April 13.
Cardinal Mooney High School celebrated the achievements of three alumni as it presented the Distinguished Alumni Awards and Prayer Service on April 12.
The program took place in the school auditorium, followed by a private luncheon.
This year's honorees were chosen as the highest examples of those who demonstrate concern and dedication to others by embracing Cardinal Mooney's pillars of "Sanctity, Scholarship and Discipline." The honorees were further recognized at the Celebrate Mooney Auction on April 13.
The 2019 honorees were Barbara L. Brugnaux ('66), Joseph S. Rosky ('73) and E. Jewelle Johnson ('90).
Upon her graduation from Cardinal Mooney, Brugnaux attended Saint Mary-of-the-Woods University in Indiana, studying journalism. After working at the Terre Haute Tribune and becoming a faculty member at Saint Mary-of-the-Woods, Brugnaux returned to school to study law. She graduated cum laude from Indiana Law School. From there, she established a law practice and worked for the Vigo County, Ind. Prosecutor's office. In 1994, Barbara become the first female county judge in Vigo County's history. From there, Brugnaux took on increasing leadership roles within the justice system such as Vigo County Superior Judge, Indiana Bar of Board Examiners and Senior Judge of Indiana, among others. Brugnaux's community has felt her impact through her lifetime membership in Girl Scouts of America, Board of Trustees at Saint Mary-of-the-Woods, Terre Haute Symphony Board of Directors and many more organizations. Brugnaux has been a continuous supporter of Cardinal Mooney through the Annual Fund and a Capital Campaign donation in 1993.
After Mooney, Rosky graduated from Youngstown State University with a degree in Industrial Management. From there, he discovered his true calling with the Boardman Fire Department. He returned to college to earn an Associate Degree in Fire Science. Rosky ultimately made the rank of Captain and retired as Assistant Chief. He spent 15 years on the Metro Arson Strike Team, as well as a three-year term on the Board of Directors for the Ohio Branch of International Association of Arson Investigators of which he was a 20-year member. Rosky has served the church by being an Adult Altar Server and Usher for St. Charles Parish for many years. Joe has been a continuous contributor to the Annual Fund, and also helped pay for the tuition for a student of a family friend, sharing the Cardinal Mooney experience with a younger generation.
While at Mooney, Johnson was voted Most Likely to Succeed by her classmates, a superlative that has proven prophetic. Johnson graduated from Miami University with Bachelor of Philosophy and Bachelor of Arts degrees. Johnson earned her Juris Doctor from Duke University Law School. She is the Assistant General Counsel and Chief Employment Counsel for Graphic Packaging International, a publicly traded company that is one of the largest producers of folding cartons and coated, recycled boxboard. Prior to her current role, Johnson served as an equity partner at Fisher and Phillips. Throughout Atlanta and Georgia, Johnson has been recognized for her leadership, and given back to others. Johnson has twice, in 2013 and 2018, been appointed to the Chair of the Georgia State Personnel Board by Governor Nathan Deal. In 2007, she served as president of the Georgia Association of Black Women Attorneys. Johnson has supported the Fulton County Atlanta Boys and Girls clubs, Atlanta Legal Aide Society's Advisory committee and the Atlanta Business League, among many other organizations. Johnson felt the call to support Cardinal Mooney by honoring her mother. The Lizzie Johnson Scholarship was established and funded by Johnson to support students and honor the hard work her mother put in to send Johnson to St. Dominic Elementary School and Cardinal Mooney.
More like this from vindy.com