---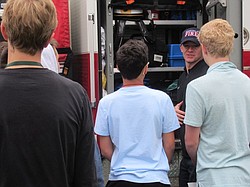 Photo
Neighbors | Jessica Harker.Representatives from the Canfield Fire Department attended Canfield Middle School's Career Day May 13.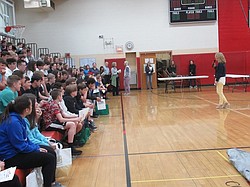 Photo
Neighbors | Jessica Harker.Patrice Larie, school counselor, addressed eighth grade students at Canfield Middle School May 13 during the school's annual Career Day.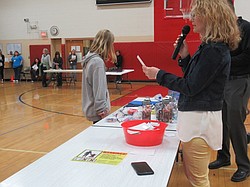 Photo
Neighbors | Jessica Harker.Canfield Middle School students who spoke with representatives from all five career fields were entered to win prizes organized by the school's PTA May 13.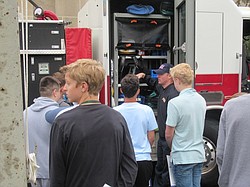 Photo
Neighbors | Jessica Harker.Canfield Fire Department representatives showed middle school students the inner workings of the fire engine May 13 during the school's annual Career Day.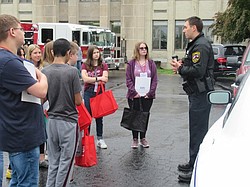 Photo
Neighbors | Jessica Harker.Canfield Police Officers were present at Canfield Middle School's annual Career Day May 13, showing students the officer's cruiser and explaining their job.
By JESSICA HARKER
Canfield Middle School students participated in the schools Career Day on May 13.
School Counselor Patrice Laurie said that more than 30 careers were represented at the event, in five different categories.
Employers from skilled trades, medical fields, business, first responders and career tech were present at the event.
Rennee English, the media communication specialist at Canfield, said that the school wanted to give students the opportunity to explore a variety of career options.
"They are in eighth grade, so next year is the time they really start making decisions about what they want to do," English said.
During the event, eighth-graders were given cards that were stamped off when they visited a member of each of the five groups.
Students broke into sections, meeting with the individuals representing different careers.
During the event, English said that the school provided the guests with key bits of information to mention, but then let the students lead the event.
One employer present, John Strachan of City Machine Technologies Inc., said that he was impressed with the students interest.
"A lot of them had questions that were pointed, and showed a genuine interest in what we do," Strachan said.
Laurie said that a big part of the eighth-grade year is career exploration.
"This is just a natural next step to that, actually allowing the students to explore the careers first hand," Laurie said.
She said that the school's goal was to show students that they didn't only have one pathway, to go to college after high school, but rather had a variety of options.
"A lot of people are worried now a days about the cost of college, and many of the employers here are from trade schools or even pay for students to go to school," she said.
One such employer was Jason Rubin from CR Electric.
He said that he was also impressed by the students questions.
"They really seemed to know a lot more about the field than I expected, and they asked a lot of questions that made me think they were taking it seriously," Rubin said.
Representatives from the Canfield Police Department and Fire Department were also present at the event.
Students were able to go outside of the school and look at the fire truck and police cruiser.
"We just want them to experience the different options and opportunities before high school," English said.
After the initial event students gathered into the schools gymnasium.
Students who filled out their cards fully, with each of the five career fields, were then put into a raffle for a number of small prizes.
"It's a little incentive for the students to complete the cards and meet the wide variety of employers at the school," Laurie said.