Undefeated Poland ousts Mooney in opening semifinal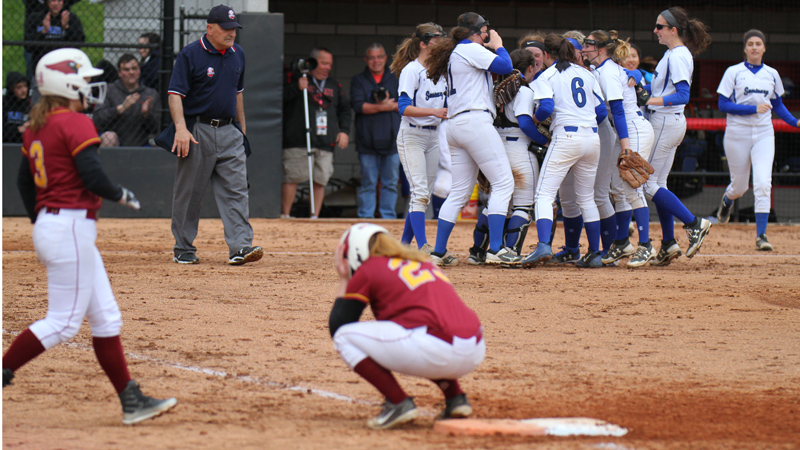 ---
By TOM WILLIAMS
williams@vindy.com
YOUNGSTOWN
Although the defending state runner-up put up a valiant fight, Mahoning County's two best softball teams will meet on Thursday in the Division II district final at Youngstown State University.
Undefeated Poland (25-0) ousted Cardinal Mooney (20-5), 8-2, in Tuesday's opening semifinal. Ursuline (25-2) hung on for a 9-7 victory over West Branch (24-4).
"We knew it was going to be a battle, probably one of the more intense games that I've coached," Ursuline head coach Michael Kernan said.
The Irish scored three runs in the first inning, then watched the Warriors score five in their next at-bat. Riley Mesler and Jordan Anderson each hit two-run doubles for the 5-3 lead.
"It's just a great group of kids," West Branch head coach Sis Woods said. "They never quit. We came back again in the seventh inning."
Woods was referring to Grace Heath's two-out, two-run homer that scored Destany Blake.
"We just ran out of time," Woods said. "We made a few mistakes early in the game that they capitalized on."
Irish senior Destiny Goodnight's daring two-out bunt in the fourth inning put the Irish back in control. West Branch led 5-4 after Alyssa Sheely scored on Maris Barbato's sacrifice fly that sent Paige Ogden to third.
Goodnight has Kernan's confidence to bunt if she thinks the defense is playing back far enough for her speed to win a race to first base.
"They weren't charging up so I had to get the bunt down. I sacrificed-squeezed," said Goodnight, who beat the throw for a RBI single.
Goodnight felt confident as she ran down the line but said, "Coach Barb [Balestrino] was telling me to hurry up. I knew the throw was coming, but I knew once I hit the bag I was safe."
Ogden tied the game on the play. The Irish continued the rally by loading the bases. Emily Holland's two-run bloop single put Ursuline ahead for keeps.
Goodnight said the Irish "expected a close battle the whole game. They have good hitters."
Kernan lifted winning pitcher Emily Holland (14-2) with two outs in the seventh inning. Emma Ericson retired Peyton Alazaus on a groundout to end the game.
Kernan considered putting Ericson in during the Warriors' five-run outburst.
"After that, Emily got on a pretty good roll," Kernan said.
POLAND-MOONEY
Poland senior Ashley Wire (16-0) scattered six hits, striking out three Cardinals and walking one.
"I knew a lot of them would chase the ball, so I threw a little bit off the plate," Wire said. "I relied on my spin and my movement a lot."
Wire was boosted by the Bulldogs' three-run first inning. Brooke Bobbey and Wire doubled to open the game. After Camryn Lattanzio singled, Wire scored on Lauren Sienkiewicz's groundout. Lattanzio came home on Jackie Grisdale's two-out single.
"It took a lot of pressure off of me," Wire said of the early three-run lead.
Her motivation?
"Keep playing like it's your last game, because it could be," Wire said.
Alaina Scavina's solo homer made it 3-1 in the second inning.
"Mooney can score any time, they've got a good hitting lineup," Poland coach Jim Serich said. "It's always nice to play from in front, you can relax a little bit. Defense did some good work today."
The Bulldogs scored four in the third inning, with Sienkiewicz's two-run double being the key blow.
"It feels so good, especially since they are a sound team," the senior shortstop said.
Senior Gia DiFabio doubled and scored on CJ Sapp's sacrifice for Mooney's other run.
Mooney coach Mark Rinehart praised seniors DeFabio (outfielder), catcher Conchetta Rinaldi and infielder Brooke Chandler.
"Can't think of a better group of seniors — and I've had 29 of them — than these three," Rinehart said. "And I feel I've just watched the curtain close on the best player [Rinaldi] I've ever coached."
More like this from vindy.com