Family-owned Forty10 fortifies Route 224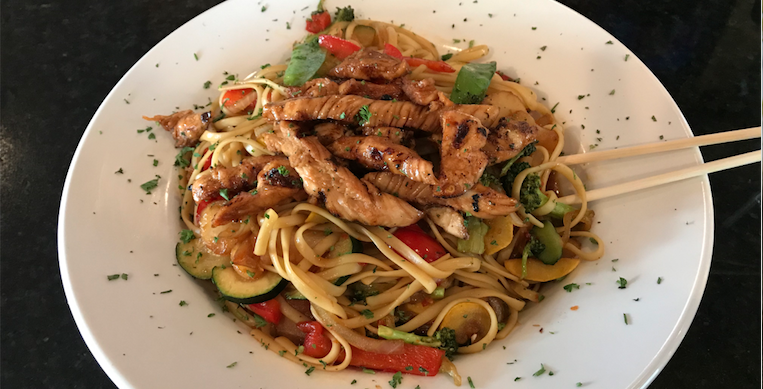 ---
$20 voucher for $10
Forty10 Bar & Grille
4010 Boardman-Canfield Rd, Canfield
Open daily, hours vary
Noodle bowls, mac and cheese, burgers
ValleyDeals365.com
Watch our interview with Forty10 co-owner Megan Moore on vindy.com/valleyfood
ValleyDeals365 Deal #2 and #3
Two $10 vouchers for $10 for Coaches Burger Bar.
$20 voucher for $10 for Magic Tree Pub & Eatery.
Valley Deals 365 - Forty10 Grille on the Hill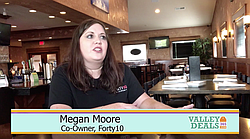 Video
An interview with Megan Moore, Co-Owner of Forty10 Grille on the Hill. This video feature is from Valley Deals 365, a partnership between The Vindicator and 21 WFMJ-TV. Visit Valleydeals365.com to view this and other deals.
By Corey Crisan
In Partnership with 21 WFMJ-TV
CANFIELD – Entering business ventures with family members can be tricky, but imagine doing so with more than a handful of your loved ones. The family operation at Forty10 Bar & Grille navigates daily through family. At any given point throughout, customers may run into one or more of several co-owners of the place.
"When you come in here, we try to make everybody feel like family," Forty10 co-owner Megan Moore said. "We don't treat you like we're a corporate chain. We're going to get to know you, you're going to want to know us."
Moore and her siblings of the Mackos family took over Forty10 in December 2017. Megan runs the bar operations, Shannon is the general manager, Shawn is the executive chef, Kristy is the head server, and Kayla and her husband, Albert, aid in operations. Forty10 has already fizzed into the next generation, as Megan's son works as a table busser.
"There is somebody in the building every day that's family," Megan said. "[And] some of the servers are friends of ours that have worked with us for years. It's a really tight-knit group of people here. We've worked together for so long, that we're usually on the same page."
Even when they're not, five siblings means a majority-rule 3-to-2 vote usually settles debates and disputes.
Forty10 is known as "The Grille on the Hill," and it sports a unique menu. The main attraction is its noodle bowls and macaroni-and-cheese dishes. Noodle bowls are made with house-made pasta and a homemade noodle sauce – a soy sauce-based creation. Noodle bowls come with choices of chicken, steak, seafood and vegetable. The macaroni- and-cheese dishes are all baked and served in a cast-iron skillet with toppings and a Ritz cracker crust.
"Other restaurants, I feel like you see the same stuff over and over again," Megan said. "We try to be completely different and outside the box. We do a lot of homemade stuff from scratch here. Our spaghetti sauce is actually my mom's recipe."
Originality is carrying Forty10 into its second year. A new patio behind the restaurant is furnished with tables and umbrellas, along with a sitting area that includes a couch, television and fire pit.
"We had to wood stain it, but now it's completely up and running," Megan said. "It's a really cozy, nice setting. When the weather finally breaks, we'll plant some flowers out there."
Forty10 also does its part in contributing to the local and regional craft-beer scene.
"We stick with a lot of Great Lakes stuff, [and] we just brought in Penguin City," Megan said. "We sell a lot of wine, but we definitely want to get more into the beer end of things. People love the local aspect of it. We use local companies for everything possible."
So much so, they feature a desert with the famous blueberry doughnut from White House Fruit Farm.
Forty10 holds Sunday brunch specials as it opens at 10:30 a.m., complete with its unique menu that runs until 2 p.m. The specials include frittatas, fried chicken and waffles, and a build-your-own Bloody Mary.
The hours at Forty10 vary by day. It opens at 11 a.m. Monday through Friday. It opens at 4 p.m. Saturday and 10:30 a.m. Sunday. For the full menu and information on takeout options, visit forty10grille.com.
More like this from vindy.com