Chaney event will benefit refugee children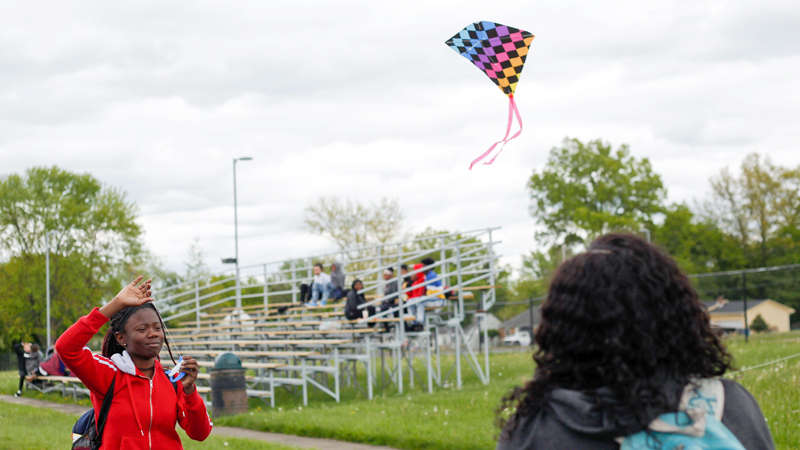 ---
By GRAIG GRAZIOSI
ggraziosi@vindy.com
YOUNGSTOWN
Chaney High School students spent a blustery Tuesday afternoon raising money by raising kites.
Nearly 100 students descended on the school's track to fly kites, eat snacks and hang out with friends — all to benefit Syrian refugees.
Students paid $2 for tickets to the event, which was organized by a small group of students and their teacher. The money will be donated to the aid organization Save the Children.

Adaiah Lewis, 18, is a senior and one of the students who helped organize the event through her AP English class.
"For our senior reading we read about refugees, and we wanted to find a way to help them," Lewis said. "The kites symbolize our themes of 'hope' and 'freedom.'"
Lewis worked with fellow seniors Steven Santiago Vega and Natasha Febrese on the project.

"The event grew out of a class project, but it just seemed like a good way for us to share what we'd been reading with the other students," Santiago Vega said. "Plus it's just something fun for us to do for us and our classmates."
Angela Dooley, a 10th grade teacher at CHS and the AP English teacher in charge of the project, said she decided to focus on stories from refugees to help students develop empathy and develop an understanding of current events.
Over the course of the class, students read two memoirs penned by Syrian refugees and a novel detailing the travails of a Syrian refugee orphan.
"I had previously done similar reading with a group of honors students and I decided I wanted to share these stories with all of my students, so I found selections that would interest them and hold the attention of even unwilling readers," Dooley said. "Once they started reading you could see them take to the stories."
Dooley said the kites bore images of smiley faces, American flags and rainbows to symbolize freedom and hope, and noted that it was the first time flying a kite for the majority of her students.
The students hope to raise $500 for the organization by the end of the school year through the event and further donations.
More like this from vindy.com