Brewery honors New Castle's blue-collar past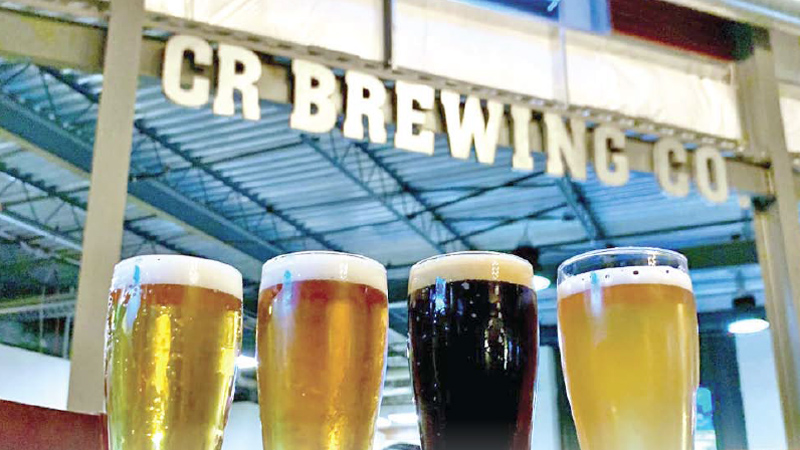 ---
By Jim Cyphert and Mahoning Valley Flight Crew
NEW CASTLE, PA.
After meeting New Castle, Pa.'s Measel/McDowell family, it's easy to see these folks don't sit around waiting for things to happen.
After meeting New Castle, Pa.'s Measel/McDowell family, it's easy to see these folks don't sit around waiting for things to happen.
The family forged ahead in high-gear after deciding to open a craft brewery within its banquet and restaurant complex.
CR Brewing has seen steady growth since opening and uses the slogan, "Hard-working brews for hard-working people."
"CR Brewing is a throwback to New Castle's 1911 blue-collar past," said patriarch, Gale Measel, based on the town once being the No. 1 growing industrial city in the U.S.
The Measels, who also own GEM Building Contractors and Developers Inc., a design-build and general construction company in New Castle, wouldn't have it any other way.
Greg, Gale's son, is general manager. Bryan McDowell, Gale's son-in-law, is brewmaster. Gale's other children, son Geoff, and daughter, Kristin, daughters-in-law Joy and Alicia, and wife, Valerie, also are involved.
In the early '80s, Gale and Valerie began transforming a former Main Street eyesore once known as Tanner Plating into the banquet center known as the New Englander and added storefronts.
The 1911 New Castle's Elks Lodge was the source of many materials for the new brewery, including hand-riveted steel trusses inside and 30-foot limestone columns outside. These trusses were forged from Jones & Laughlin (J&L) Steel manufacturing facility, then assembled by American Bridge and Iron.
The building has an edgy architectural theme and a 10-ton overhead crane running through the main dining area, as represented in the Crane Room name. The vision was to serve the market by creating CR Brewing, a $3 million, 20,000-square-foot addition in 2017, as a centerpiece within the Crane Room Grille and New Englander complex.
Most CR Brewing beer is sold at the brewery and the Crane Room Grille. Pittsburgh's Frank Fuhrer Wholesale distributes CR Double IPA, CR Irish Red and CR Chocolate Porter. Expanded distribution is expected soon.
CR Brewing features a 10-barrel brewing system and 20-barrel fermentation and brite tanks.
From CR Kolsch to CR American Wheat to CR Double IPA to CR Chocolate Porter to CR Stout – plus a lot of specialty seasonal beers – there's a lot to offer.
New offerings include CR Blood Orange Kolsch, CR Pineapple IPA, CR Sour Cherry Chocolate Porter and CR Mint Chocolate Porter.
Between the Crane Room and CR Brewing, there's an executive chef, eight cooks, 100 employees and nearly 60 beers on tap – up to 18 of which are house-brand beers at any given time.
"We're unique because we already had great food," said Greg. "Now we're brewing great beer."
Outstanding beer and food – at reasonable prices – keeps core customers coming back. It's appealing to new visitors, too.
A welcoming environment based on era gone by but never forgotten doesn't hurt, either. It's a family destination, from within a 60-mile radius, that's worth the trip for great food and brews, special events and daily chef's specials.
We spent an enjoyable evening with the Measels. You'd have thought we were with old friends the way we chatted with Gale, Greg and Geoff.
We were oblivious to the fact that we'd stayed a bit past closing time. We don't think the Measels minded.
Here's our take on CR Brewing beers:
CR Georgia Smoked Wheat (5.3% ABV)
Jason Jugenheimer: "Ray Charles said it best, 'I keep Georgia on my mind,' when I drink this beer. This is a traditional wheat beer with smoked applewood added during fermentation and white peach added to the brite tank. It's an extremely drinkable summer beer with the aroma of peach Jell-O and a flavor that balances a light smoke flavor with the bitterness of hops and sweetness of peach. It has a great mouthfeel and crisp finish. This is a beer you want as spring shifts to summer."
CR Mint Chocolate Porter (6.5% ABV)
Dave Shively: "My review turned out to be a tad bittersweet. I chose the CR Mint Chocolate Porter, a seasonal beer, which combines a smooth bittersweet chocolate profile with a hint of mint on the finish. It reminded me of a cold slice of French silk chocolate pie. At 6.5 percent, this would make an excellent dessert beer to pair with the outstanding cuisine featured on the extensive menu as created by the executive chef."
CR Stout (6.0% ABV)
Jim Cyphert: "Geoff is a Stout fan. He tested if I was. He gave me a sample of the CR Caramel Stout, which is outstanding. Then came the traditional CR Stout. He figured I'd either make a bitter face or fall in love. It was the latter. You can taste the passion put into this beer. Rich roasted malt and espresso depth make it a go-to brew. Geoff was never a coffee fan, but now drinks it because it tastes like CR Stout."
CR Bourbon Barrel-aged Kolsch (9.2% ABV)
Roger Gillespie: "When deciding which order to sample my flight, I put what I expect to like the best as my final taste. It didn't work out that way at CR. I began with the CR Bourbon Barrel-aged Kolsch and was blown away. CR Kolsch is legendary in its own right but letting it age in a Heaven Hill Bourbon barrel sets it apart from any barrel-aged beer I've tasted. You'll be deceived by its 9.2 percent ABV because it's so smooth. This should be on everyone's must-try list."
CR Double IPA (8.0% ABV)
Brian Long: "As much as I enjoy searching out strong ales with a great hoppy bite, I found CR's Double IPA very balanced, having hop bitterness with a light, nutty presence and malty finish. The 8.0 percent Double IPA was super smooth for this crew member. I could see myself having a few of these at one sitting. Bottoms up!"
CR Chocolate Porter
(6.5% ABV)
Joe Sanfilippo: "Did someone say Chocolate Porter? "Yes, please!" Looking for something for your sweet tooth? This one's for you. It was smooth and poured dark brown – like a liquid chocolate bar. The American Porter is 6.5 percent and provides a nice chocolate, malty taste."
Recommended Flight Pattern: Head to New Castle for great beers, tasty food and a nice visit with the folks at CR Brewing.
More like this from vindy.com