McDonald track teams sweep MVAC titles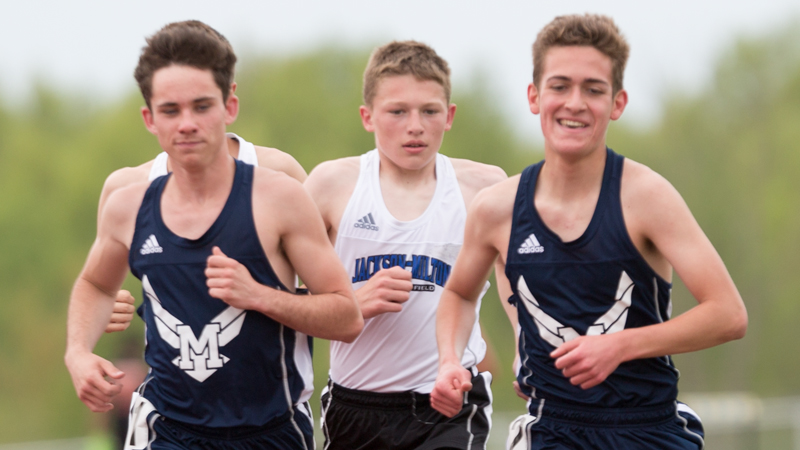 ---
By BOB ETTINGER
sports@vindy.com
BERLIN CENTER
Connor Symbolik knew the goal was for the McDonald boys track team to win the Mahoning Valley Athletic Conference Meet at Western Reserve on Thursday.
He was under the impression the Blue Devils needed put forth the enough effort to do that, but save some energy for the beginning of the postseason next week.
"[The goal] was for everyone to put forth enough effort to win," Symbolik said. "We just wanted to do well and place."
Turns out, Symbolik didn't fully understand the situation.
"The league always comes at the weirdest time for all of the teams here," McDonald boys coach Lou Domitrovich said. "We're all at such an important time in our training. We're all training our hardest. The kids all seem to run flat. It's tough for them and they don't understand why they can't go [when they need to find another gear]. It's because of the work they're doing in practice."
With wins in the 3,200- and 1,600-meter runs, Symbolik helped the Blue Devils to yet another league championship, which continues a streak that dates back more than two decades.
"I don't think we've lost a league championship since 1995 or '96," Lou Domitrovich said. "We have a good record here, but it comes at the expense of beating the kids up."
The McDonald girls also took home the team title, continuing a streak reaching back nearly a decade.
"They came in and put forth a tremendous effort," McDonald girls coach Mary Domitrovich said. "I don't think any of them took the meet lightly. They are tired and beat up. That's just the time of the season it is. We train hard. Any time we win a league championship, it's a nice feather in the cap.There's a lot of great competition from all the schools here."
Anna Guerra paced the McDonald girls with wins in the 3,200 and 1,600.
"I just used today to get out strong and do the best I can," Guerra said. "It turned out well. I was thinking about a certain time that wouldn't be too hard or too easy and race by myself."
After Guerra won the 3,200 and teamed with Bella Wolford, Sela Jones and Janessa Martinelli to win the 3,200-meter relay, Naomi Domitrovich won the 100-meter hurdles to give the Blue Devils a strong start in compiling 162 points.
Other winners for the Blue Devils included Wolford (800), Jessica Stamp (200) and Trinity Hobbs in the discus. Riley Matig, Olivia Perry, Stamp and Domitrovich teamed up to win the 800 relay. Wolford, Matig, Stamp and Jones also won the 1,600 relay.
Zach Gray claimed wins in the discus and shot put as the Blue Devils netted 176 points. Tanner Kilbourne (110 hurdles), Zack Canada (300 hurdles), Brody Rupe (800) and Cam Tucker (high jump) all won for McDonald. The 3,200 relay team of Rupe, Greg Dickson, Jacob Wolford and Zack Canada and the 1,600 relay team of Tyler Worrell, Alex Cintron, Dickson and Rupe were also victorious.
Garrett Walker claimed wins in the 100, 200 and 400 to lead Springfield to a second-place finish.
"It's amazing," Walker said. "I'm so happy I was able to come here and do this against competition like this. I have to give it up to my coach. He makes me work hard. He makes me come out here and run like I can."
Jackson-Milton junior Grace McDevitt won the shot put with a MVAC-record throw of 34 feet, 6 inches. She also threw a personal-best 108-6 to finish second in the discus. McDevitt beat her previous PR by more than five feet.
Mineral Ridge was second with 148 points in the girls event while Springfield (117) was third, Western Reserve (87) was fourth, Jackson-Milton (66) was fifth, Lowellville (17) was seventh and Sebring (12) was eighth.
Mineral Ridge was third behind McDonald and Springfield with 97.5 points, Western Reserve tallied 77 points for fourth and Jackson-Milton was fifth with 66. Lowellville placed sixth with 43, Sebring was seventh with 17 and Waterloo placed eighth with nine points.

More like this from vindy.com