Boardman heads to state Envirothon competition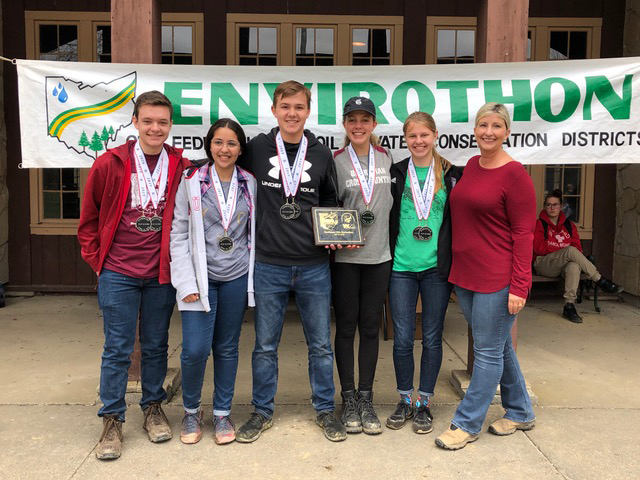 ---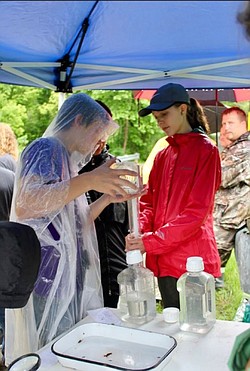 Photo
Neighbors | Submitted.Boardman students Justin Olsen and Sophia McGee performed water tests on a local river during the annual Envirothon competition on April 25.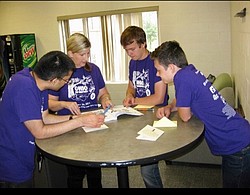 Photo
Neighbors | Submitted.Boardman advanced biology teacher and Envirothon coach Heather Moran looked up trees along with students Justin Olsen and Bryson Harris during the Envirothon competition on April 25.

Photo
Neighbors | Submitted.Boardman student winners of Envirothon included, from left, Bryson Harris, Marrwa Kermagi, Justin Olsen, Sophia McGee and Shayne Harris and coach and advanced biology teacher Heather Moran.
By JESSICA HARKER
Student members of Boardman's Envirothon team received first place at the annual North East Ohio competition on April 25.
The group's coach and Boardman Advanced Biology Teacher, Heather Moran, said that Boardman has been participating in the competition for 10 years.
"We study environmental issues such as water and lake quality, how to sustainably feed people, wildlife management and forestry," Moran said.
Moran, who has been coaching the team for all 10 years, said that the group is made up of two teams with about four alternates, comprising 15 students all together.
Students try out for the team in late February, according to Moran, and practice once a week through March and April in preparation.
"We study a wide variety of topics," Moran said. "We study the soil stability for planting or building, we identify animal tracks and trees."
The competition takes place outdoors, where students do field testing and put together an oral presentation that they present to a panel of judges. Moran said that the judges then have the opportunity ask students questions about their presentation.
Topics cover five areas, including soils, forestry, wildlife, aquatic ecology and current environmental issues.
This year, Boardman students won four of the five areas of the competition, with many students taking home individual medallions.
Boardman has a history of being successful at the Envirothon competition, taking second place in the state competition last year. The team also qualified for the national tournament in 2013, though the tournament was cancelled due to storm damage in Georgia, where it was to take place.
With this win, students once again qualified for Ohio's state tournament, which will take place June 9-11 at Franciscan University of Steubenville.
More like this from vindy.com