At Whistle & Keg, become the bartender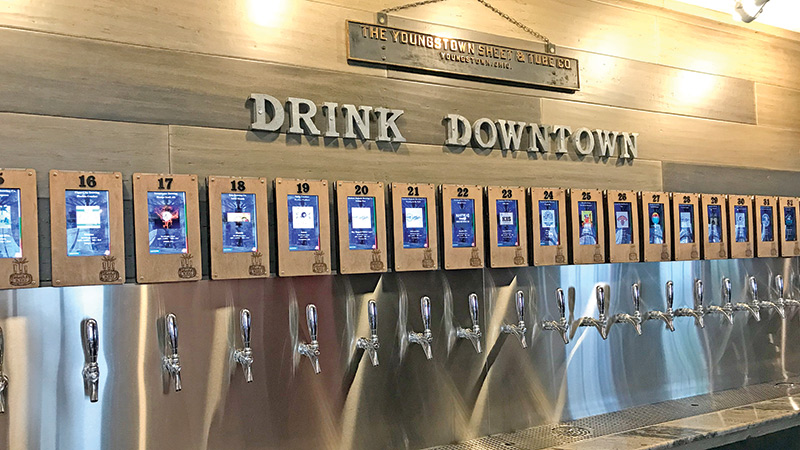 ---
TWO $10 vouchers for $10
WHISTLE & KEG
Address: 101 West Federal St., Youngstown
Hours: Open daily, hours vary
Fare: Craft beer bar, "open food" policy
The deal: ValleyDeals365.com
Watch our interview with Whistle & Keg COO Christopher Stanley on vindy.com/valleyfood
ValleyDeals365 Deal #2 and #3
1/2 OFF VOUCHER FOR V2 Wine Bar and Trattoria.
1/2 OFF VOUCHER FOR Homestead Kitchen & Cocktails.
Valley Deals 365 - Whistle & Keg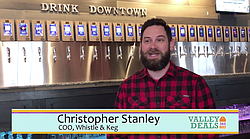 Video
An interview with Christopher Stanley, COO at Whistle & Keg. This video feature is from Valley Deals 365, a partnership between The Vindicator and 21 WFMJ-TV. Visit Valleydeals365.com to view this and other deals.
By Corey Crisan
In Partnership with 21 WFMJ-TV
YOUNGSTOWN – Imagine a room with more than 40 beverage choices, and all of them are at your dispense at will. Whistle & Keg is a craft beer bar that makes that concept a reality. The customer does not pay for drinks by the glass or pint. Rather, they pay by the ounce, leaving as little or as much control over how much they drink at any given visit.
Whistle & Keg attributes and pays homage to the rich history of steel in Youngstown. The original shift-change whistle from Youngstown Sheet & Tube is mounted on its sign on West Federal Street, and it blows at the traditional noon and 4 p.m. times, just as it did when Sheet & Tube was operating.
Whistle & Keg opened in 2017, and it contributes as one of the more unique spots in the Mahoning Valley. The process of ordering a drink is different than at other establishments. Rather than a bartender serving your favorites, customers do it themselves – a self-service bar.
"We're a laid-back place where you're moving at your own pace," Whistle & Keg COO Christopher Stanley said. "It's a really cool place to sample around and try some stuff that you wouldn't normally have the opportunity to do otherwise."
Whistle & Keg is also unique in the concept of being a cashless bar. That stands within reason, as the entire process of self-serve links to the customer's debit or credit card.
"When you walk in the door, you stop down at the register and our employees will check you in," Stanley explains. "We connect you to a wristband, and [it] gives you complete control. It tells you on each tablet [above the tap] how much it is per ounce, and if you want more information, you can touch that tablet."
From there, the customer uses their wristband to activate the tap, and they pour as little or as much as they please of that drink. The tablet adds the total to the wristband's RFID chip, which is linked to the credit or debit card. Before leaving, the customer trades in the wristband for their card, pays the tab and is on their way.
Whistle & Keg has 44 taps inside and four additional taps on its patio facing Federal Street. Drink choices range from domestic and craft beer that is rotated regularly, to red and white wine, to cider, kombucha and mead. Of course, Whistle & Keg supports the local favorites.
"We're very heavy with local Youngstown breweries," Stanley said. "We have Noble Creature, BirdFish, Penguin City, Numbers, Biker Brewhouse. We like to support all these local breweries. One of our top sellers is Penguin City. We go through a keg of it a week, which is very impressive."
If a customer considers dining at Whistle & Keg, there is a unique way of doing so.
"We have an 'open food' policy," Stanley said. "You can bring in anything you want. If you're here, and you want to order from Avalon, The Federal, Roberto's ... whatever it is, bring it in. You can literally bring in a crock pot and picnic basket from home."
Whistle & Keg's hours vary by the day. It is open at 4 p.m. Monday through Friday, and it opens at noon on Saturday and Sunday. For the list of drinks on tap and its event schedule, visit whistlekeg.com
whistlekeg.com.
More like this from vindy.com