Boardman Lady Spartans are softball sectional champs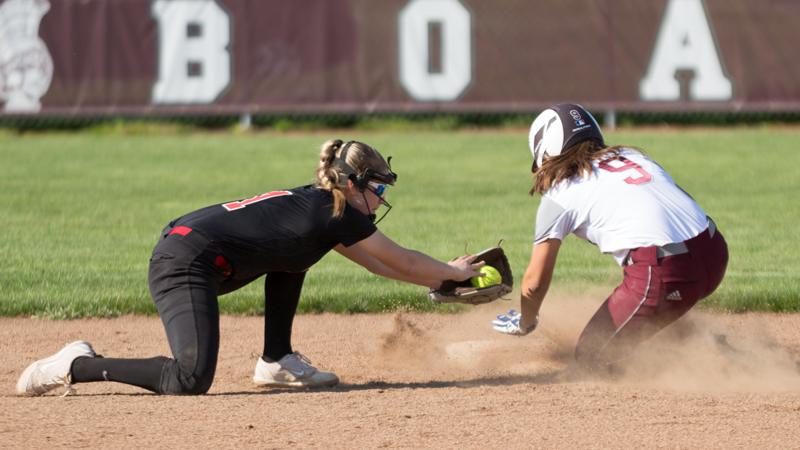 ---
By TOM WILLIAMS
williams@vindy.com
BOARDMAN
One of the best birthday presents that Boardman High school softball coach Fred Mootz received on Wednesday was continued strong pitching by freshman Madison Lester.
In a Division I sectional final, Lester scattered six hits in shutting out All-American Conference Red Tier rival Canfield, 6-0.
"She's been the difference for us the past two weeks," Mootz said. "She has the poise of an 18-year-old ... doesn't get rattled.
"She just doesn't get fazed."
Twice, the Cardinals threatened to score. Both times, Lester escaped with a strikeout.
The first instance came in the second inning when the game was scoreless. After Bridget Kelly doubled with two outs, Lauren Fitzeerald advanced her to third base with a base hit. Lester struck Liz Ferraro to end the inning.
Then in the fifth inning with two outs and Boardman ahead 2-0, Mary Gomez was on first base when Lester faced Cardinals slugger Kalin Kovach. When the count reach 3-0, Mootz visited the mound.
"He told me that it was OK to walk her, that she's [hit] a lot of home runs]," Lester said. "I did not want to walk her."
Mootz said he told Lester "don't give in, [Kovach] could tie the game. She's the most dangerous girl in their lineup. She hit one here on us last year into the tennis court so we know what she's capable of doing."
Lester's next three pitches were strikes, the last one swinging.
"[It felt] great," Lester said.
Lester struck out 12 batters and walked two.
"She brought it, she brought it well," Canfield coach Ray Melewski said. "We couldn't catch up with [her pitches]."
Lester scored the Spartans' first run after she doubled to lead off the second inning. One out later, she scored on Nina Scavelli's base hit.
The Spartans made it 2-0 in the third inning after Dana Haus' lead-off single. Alicia Saxton worked the count full against Cardinals starter Brooke Crissman then fouled off a pitch.
Then she doubled to center field.
"It was an outside high fastball, I'm pretty sure," said Saxton, who added she knew right away the ball was going to travel. "It just felt great. As soon as it came off the bat, I knew it was a good hit."
The Spartans scored four in the fifth inning. Jenna Olexa drove in two runs with a base hit.
In the regular season, the Cardinals and Spartans split two high-scoring games.
"They were our first two games, a lot of errors," Saxton said.
Mootz said the Spartans of won 13 of their past 16 games.
"We're trending up," the first-year head coach said. "Two of those [games] were one-run losses to Poland and Newton Falls."Crissman, Kovach, Mary Gomez and Mallory Vaclav are the Cardinals starters who will graduate.
Melweski credited them for keeping the team positive.
"Those four seniors held us together," Melewski said. "This season didn't turn out as we hoped it would.
Kovach is a four-year starter.
"She's nothing but a power hitter," said Melewski, adding that Crissman was the "heart and soul" of the team.
"She never quit," Melewski said, "The seniors held us together in what's been a struggling year for us."
More like this from vindy.com