Jackson takes flight at YSU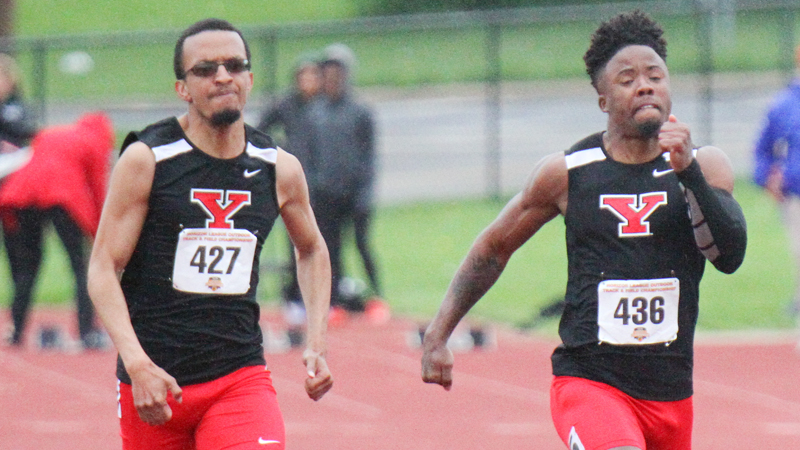 ---
YSU Horizon League Track Meet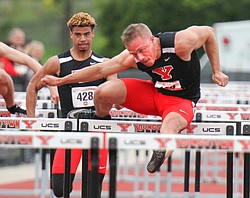 Gallery
YSU Horizon League Track Meet
By BRIAN DZENIS
bdzenis@vindy.com
YOUNGSTOWN
Jamynk Jackson continues to surprise.
The one-year wonder for Valley Christian's track team last year is still breaking out at Youngstown State. On the second day of the Horizon League Outdoor Track & Field Championship, Jackson showed he's right there with the tournament's elites.
He's part of an elite foursome of sprinters in the 100 and 200 meter dash, joining with junior Brandon Lucas and seniors Josh Beaumont and Chad Zallow.
On Saturday in the 100 preliminaries, Jackson ran a personal-best 10.77 seconds in the rain while taking fourth place.
He was just 0.17 seconds behind first-place Zallow.
In the 200 prelims, he was third with a time of 21.65 behind Zallow's 21.38 and Jimmie Williams' (Oakland) 21.37. Both marks are good enough to get him to today's final races and for the 100, he's on the cusp of qualifying for NCAA regionals.
All of this is impressive coming off just one year of high school track and after joining the Penguins in December.
"It's all still hitting me. When I told my teammates I only did one year of track, they were surprised," Jackson said. "I'm still surprised I'm here in Division I track running good times."
Jackson — who used to think football was his calling — reluctantly joined the Eagles' track team his senior year. He ended up winning the Division III state title in the 200 and was part of the 4x200 title-winning relay. He had an offer from YSU, but he still wanted to make football work.
He attended Milford Academy in New Berlin, N.Y., last fall to try and get better offers on the football field. He played sparingly for the Falcons and most of his offers were either from Div. II schools or lukewarm bids from Div. I teams.
"I texted [YSU assistant coach David Townsend] and he's like 'let's go, come here,'" Jackson said. "I came in right before Christmas break and just fell in love with the program."
In a slightly-abbreviated indoor season, Jackson was second in the League Championships in the 200 and third in the 60 meter dash.
His goal for today isn't necessarily winning — his coaches won't be upset if he can't catch Zallow — but to produce a time worthy of making regionals.
He needs a time of about 10.5 seconds to qualify.
"If [I get that time], I'll be shocked," Jackson said.
YSU collected a pair of League titles on the women's side and in record breaking fashion.
High jumper Abby Jones won her third consecutive outdoor title with a jump of 1.72 meters. She broke her own facility record for Farmers National Bank Field of 1.68.
"It's my senior year and I'm excited to win and I'm happy to win for my team," Jones said. "I didn't get my goal — I wanted to qualify for regionals — but it's still exciting either way."
Jones needs to hit 1.75 meters to make regionals. The team is scheduling a "last chance" meet before regionals on May 23 to give athletes like Jones another try.
Junior Chontel Fils won her second outdoor title in the long jump and her first since her freshman season. Her second jump of 5.81 meters was enough to win and set a facility record.
Zallow and women's sprinter Jaliyah Elliott each set facility records as well in preliminary races for the 100.
Zallow's 10.60 is the new mark for his home field after Detroit Mercy's Brandon Wilks held the best time of 10.70 since 2014.
Elliott's time of 11.64 beat former Penguin Nina Grambling's time of 11.91 in 2014.
More like this from vindy.com