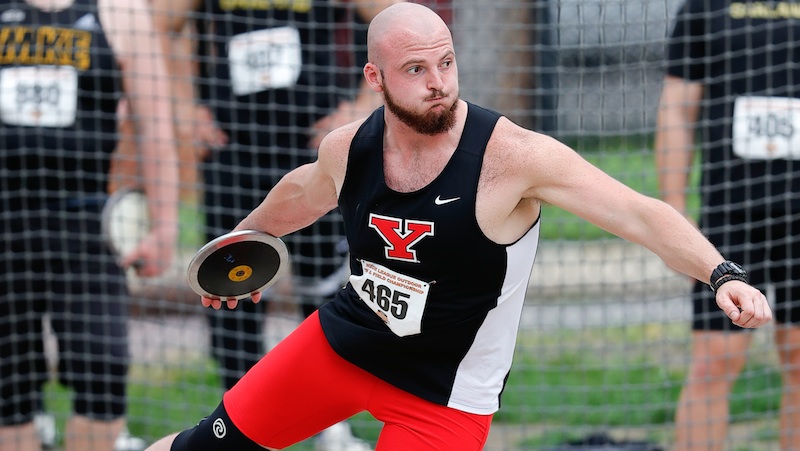 ---
By BRIAN DZENIS
bdzenis@vindy.com
YOUNGSTOWN
In his head, Dom Westbay was reeling in a trout next to a picturesque river. In reality, he was winning a Horizon League title.
In an upset on the opening day of the Horizon League Outdoor Track & Field Championships, the Youngstown State discus thrower shattered his personal best by four meters to take first place on Friday.
"I was relaxed, calmed down and I was in my happy place," Westbay said of the winning 50.31-meter throw. "I was next to the river fishing."
The senior's opening throw ­— the winning throw — elicited some gasps and cheers from his YSU teammates and coaches. Typically, shot put has been the Shenango, Pa., native's specialty.
"It was the first time I've gone over 46 meters. I was very surprised and humbled," Westbay said. "It made my jaw drop.
"I've never thrown that far in my life."
The surprise wasn't that someone from YSU won the men's discus, but that it was Westbay. Freshman Zach Gehm entered the weekend as the favorite to not only win, but also break the Horizon League and facility records. His personal best of 54.17 was enough to break both marks.
He was a centimeter short of his teammate.
"Everyone came in saying this was my [event] to win and I came up short. Dom put in a lot of work and I did too and sometimes it happens," Gehm said. "I have more meets this year and we'll go from there."
Gehm has become one of the program's marquee throwers in a short amount of time. On April 21, he became the school's record holder in the event and already has clinched a bid to NCAA preliminaries on May 23. This comes after a high school season where he was the 11th-best in the nation at Seneca Valley (Pa.). In last spring's PIAA state tournament, he won the title by 20 feet.
"I've been listening to my coaches and taking things a step at a time. Today, I think I got a little ahead of myself," Gehm said. "I've been getting better by two meters every meet and today was a setback, but hopefully I can bounce back."
Canfield graduate Andrew Hallof took fifth with his best throw coming at 45.39 to have the throwers give the Penguins 22 of their tournament-leading 52 points on the first day. Westbay hopes he can add another 10 points in the shot put.
"Last year, I was eight to 10 feet behind where I am now," Westbay said. "I'm back and I want the title."
On the women's side of the discus, Poland graduate Nicolette Kreatsoulas saw victory snatched away late as she took fourth.
Her throw of 43.78 stood as the best until eventual winner Brianna Pack of Northern Kentucky passed her on her second to last throw.
On the last round of throws, Oakland's Gabriell Cyriax and teammate Kaitlyn Merwin passed her. Pack's final throw of 44.81 passed Merwin for the title.
"Discus has always been my baby — it's what got me to college — but at the end of the day, I'm happy with where I ended up," Kreatsoulas said. "I ended on a season best and I'm really focused on the hammer throw this weekend."
Sammy Dyson took fifth as the Penguins got 17 points from the event. YSU leads the tournament so far with 40 points.
More like this from vindy.com