Holy Family brings Junior Achievement into classroom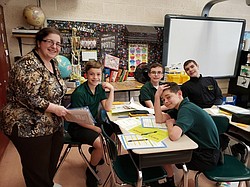 Photo
Neighbors | Submitted.Tracie Balentine taught a lesson to a group of seventh-grade students as part of Junior Achievement at Holy Family. Pictured are, from left, Balentine, Dominic Graziano, Joseph Wrenn, JD Memo and William Desmond.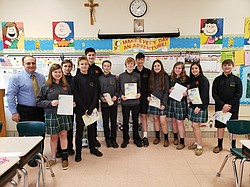 Photo
Neighbors | Submitted.Mr. Patrone worked with some Holy Family eighth-grade students during JA in a Day. Pictured are, from left, Johnna Shaw, Joe Sfara, Alex LaPlante, Alec DelSignore, Todd Miller, Will Varley, Dante DeGenova, Sophia Sdegras, Sophia Graziano, Nicolette Tsikouris and Joe Zeno.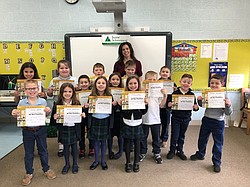 Photo
Neighbors | Submitted.Debra Loboy posed with her Holy Family first-grade Junior Achievement class. Pictured are, from left, (front) Jason Bacha, Lilian Dambrogio, Julia Jones, Chloe Loboy; (middle) Christian Stamp, Mallory Berlon, Cash Carlisle, Georgios Pilatos, Matteo Schiraldi; (back) Monica Skurich, Marian McDonald, Matthew Jacobs, Tyson Schrickel and Justin Gentile.
Holy Family School has offered Junior Achievement, in correlation with Junior Achievement of Mahoning Valley, in its classrooms for the past six years. The Junior Achievement program is divided into two separate programs at Holy Family. Students in grades kindergarten through five participate in Junior Achievement in individual classrooms for five weeks. For these five weeks, parent volunteers come into the classroom to discuss grade appropriate financial literacy lessons.
Students in grades six through eight participate in a day-long event called JA in a Day. Volunteers present a day-long program where they teach students how to prepare for the real world in terms of business, entrepreneurship and how to manage their money today and in the future.

Nicole Fond is the program manager for Junior Achievement and helps to train the volunteers and coordinates the JA in a Day.
"We are thankful for our volunteers who give their time to our students. We cannot fulfill our mission without them. Through our hands-on lessons, Junior Achievement volunteers are able to share their personal experiences, helping to inspire and prepare students for their futures," Fond said.
Debra Loboy volunteered to teach Mrs. Seifert's first-grade class. This was her first year teaching Junior Achievement.
"I truly enjoyed the experience of teaching this group of first-graders. The children were willing to learn, excited to participate and looked forward to my visits. The Junior Achievement program is a great way to introduce real life economies at a level that is easy and fun for all," Loboy said.

This year, the seventh-grade volunteer was Tracie Balentine, who is the owner of Raising Potential Consulting.
Balentine spent both the morning and the afternoon with the seventh-grade class. "I'm so proud to share Junior Achievement programs with our kids. There is so much great information I wish I knew at their age. Holy Family is a great school. The students are so eager and engaged. Some of my kids even remembered me from the prior year," Balentine said.
More like this from vindy.com