Austintown Fitch inducts new members to National Honor Society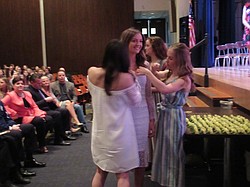 Photo
Neighbors | Jessica Harker.Austintown High School junior and senior inductees in NHS recieved roses pinned by members of the group April 12 at the schools NHS induction.

Photo
Neighbors | Jessica Harker.High school juniors and seniors were inducted into the Austintown High School National Honors Society group April 12.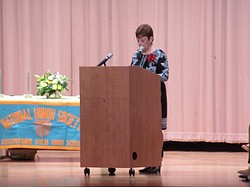 Photo
Neighbors | Jessica Harker.Marybeth McGlinn was the chosen speaker for the 2019 National Honors Society induction at Austintown Fitch High School.
By JESSICA HARKER
Austintown Fitch High School inducted new members into their branch of the National Honors Society on April 12. The induction was hosted at the school's auditorium and organized by NHS advisor Heather Carcelli.
Austintown juniors and seniors who met the school's criteria for the organization were invited to join the group.
Students who were inducted had to showcase the four qualities of NHS: character, scholarship, leadership and service.
Students complete a number of volunteer hours and help organize the induction ceremony.
Each year students vote on an outstanding speaker to present during the ceremony.
This year school counselor Maribeth McGlynn was voted in unanimously as the speaker. Students introduced McGlynn stating that her "unparalleled selflessness" made her the only logical choice for the speaking position.
During her speech McGlynn discussed the dedication the NHS students showed to bettering their community.
"I hope you always remember your roots, and take the time to thank the people who helped you get here," McGlynn said.
The school's choir and band performed for community members gathered at the event.
All juniors and seniors who met qualifications for the program, reaching a 3.4 or higher GPA among others were inducted.
More like this from vindy.com