Armstrong raises money to match veterans with service dogs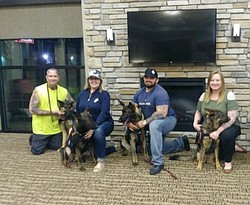 Photo
Neighbors | Submitted.Four veternas traveled to Florida to meet with their trained service dogs. Pictured, from left, are Harvey and his dog Rosa, Lisa and Yogi, Bryan and Fahrny and Samara and Angel.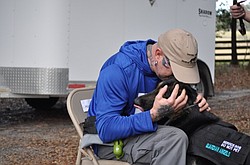 Photo
Neighbors | Submitted.Austintown resident Harvey met with his new service dog Rosa in Florida as part of the Healing Heros project funded by Armstrong.
By JESSICA HARKER
Armstrong partnered with Guardian Angel Medical Service Dogs to bring service dogs to veterans.
According to Megan Ellashek, the local Community Marketing Manager for Armstrong, the company has been working for two years to raise money to fully fund service dogs for veterans within Armstrong's coverage area.
Ellashek said that Veterans Cable reached out to Armstrong to join the program, with the goal of financing 22 service dogs.
"It's 22 because every 22 seconds a veteran commits suicide," Ellashek said. "So it's a powerful way to turn that message around."
To help Veterans Cable reach their goal Armstrong agreed to finance five dogs at $22,000 a dog.
Ellashek said the company committed to paying for half of the dogs, with the other half being raised by employees.
Medina Marketing Manager Sam Pietrsngelo headed up the program, according to Ellashek, working with managers throughout Ohio, Pennsylvania, New York, West Virginia and Kentucky.
"We reached out to rotaries, we were working with the Boardman Park, we even sold hats and T-shirts to try to raise money for this program," Ellashek said.
After eight months, the employees raised $55,000, enough to fund their half of the five dogs, but they didn't stop their.
"We knew we had more time, so we wanted to keep it going, it's such an important program," Ellashek said.
After the two year mark, thanks to fundraising and community support, Armstrong employees were able to raise $245,841, doubling their original commitment and funding 11 dogs.
"This is our way of giving back," Ellashek said. "They served for us and it's our way of helping them in return."
Veterans within Armstrong's coverage area were able to apply for the dogs.
Guardian Angel Medical Service Dogs is based in Florida, allowing the dogs to be trained year round. Once a veteran is chosen for the program, they travel to Florida, free of charge, to meet with their service dog and see if they bond.
So far six dogs that Armstrong funded have been placed with veterans, including Harvey, a 48-year-old veteran from Austintown who has PTSD.
"We worked really hard to be able to do this, funding as many dogs as we could to help as many people as possible," Ellashek said.
She explained that the dogs are trained for two years to complete a variety of tasks, including opening doors, turning on lights, alerting their owner to symptoms of their illness and more.
Ellashek said that as a thank you, Harvey traveled to the Armstrong location in Boardman along with his dog Rosa.
"They were incredible together," Ellashek said. "We were so in awe and grateful to see them, it's such an amazing feeling."
Five dogs are still available through the program, which can be applied for by any local veteran who is interested.
To apply veterans can go to www.medicalservicedogs.org/service-dog-application/, which Ellashek said she hopes to see more local veterans do.
"We have received such great support from the local community, and the veterans in this area deserve it, so we want to see them benefit from this as much as possible," Ellashek said.
More like this from vindy.com