Young girls learn coding at Main library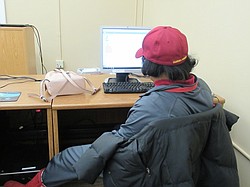 Photo
Neighbors | Jessica Harker.National Non-profit program Girls Who Code is offered to girls grades 6-12 at the Main branch of the public library for 12 weeks.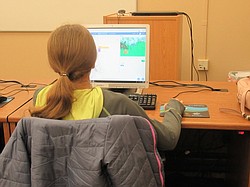 Photo
Neighbors | Jessica Harker.Girls meet once per month at the Main library for the free Girls Who Code program, where students grades 6-12 are able to complete 12 weeks of coding lessons.
By JESSICA HARKER
The Main library of Youngstown and Mahoning County hosted the Girls Who Code program starting in January, teaching girls grades six through twelve coding basics.
Librarian Sarah Blott said the program was designed to allow girls to to learning coding a their own pace.
"It really allows them to work independently," Blott said.
Two girls attend the program full time, working online at the Girls Who Code web site, where they follow online lessons.
Girls Who Code is a national non-profit designed to lower the gender divide in coding industries.
"STEM is becoming huge now and this program really tries to make sure young women are given just as many opportunities to explore that as boys do," Blott said.
She explained that the group meets once a week on Wednesdays in a computer lad at the library.
The girls in the group work for two hours online each day, learning at their own pace.
Blott said that the program will culminate in a reception, showing off their hard work by displaying their final projects.
The reception will take place at the end of the program in April.
"It's things like this that matter a lot to young women who are trying to explore what they want to do when they get older," Blott said.
More like this from vindy.com