Boardman Lions use school's food pantry to create meals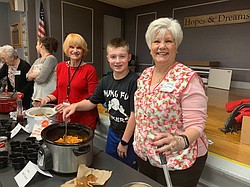 Photo
Neighbors | Submitted.Sixth-grade student Jase Carkido was one of many students who helped organize the pantry during the school year. Carkido is pictured between Kathy Hunt and Celia Hindes..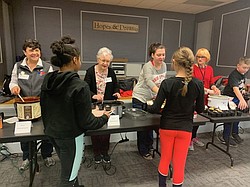 Photo
Neighbors | Submitted.The candied yams were one of the favorites when Boardman Intermediate Center students particiapted in a taste test with the Boardman Lions.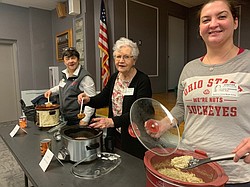 Photo
Neighbors | Submitted.Boardman Lions Club volunteers, from left, Judith Young, Sandra Janis and Laura Ahlswede got ready to dish out sweet potatoes, baked beans and a noodle casserole for students to taste..
In November of 2016, Boardman Center Intermediate opened the first daily school food pantry in the valley. Since then, hundreds of students and their families have seen the benefits as it helped them put dinner on the table.
The Boardman Lions Club is active at Boardman Center Intermediate with helping to stock and organize pantry shelves. Recently, nearly a dozen volunteers visited with Crockpots full of meals prepared solely from items stocked in the school food pantry.
The smorgasbord included a variety of samples, including soups, pancakes, green bean casserole, sausage gravy, Spanish rice and sweet potatoes.
"Some of the kids never tasted a baked bean, or didn't know they liked sweet potatoes," said Gail Green. "This is a great way for them to learn all the healthy things you can prepare at home."
"It's important to show the students how to use the staples in the pantry to create nutritious and tasty meals at home," said school counselor Mindy DePietro. "We are grateful to the lions for spending the day with us, and for all they do for our school all year long."
More like this from vindy.com