Buchtel ousts Poland in regional semifinal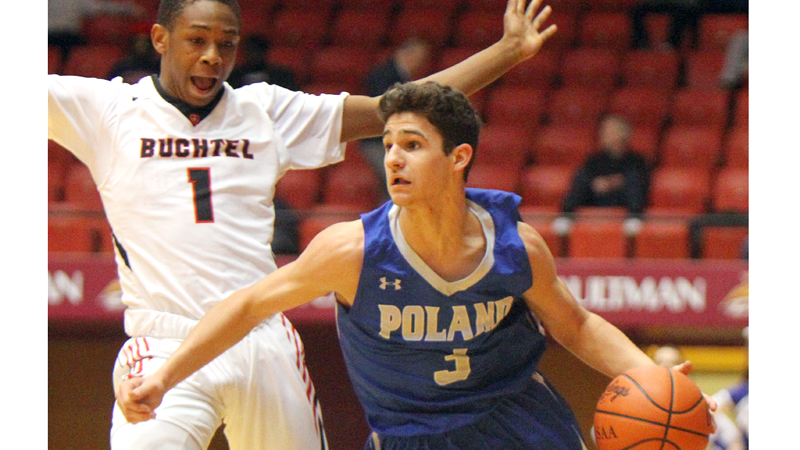 ---
'Dogs unable to capitalize on foul trouble
By Tom Williams
CANTON
With about 4:30 remaining in the third quarter of Wednesday's Division II regional at Canton Civic Center, Akron Buchtel's two best players were on the bench with four fouls apiece.
Jonathan King generated nightmares for Poland in the first half, scoring 19 points, pulling down four rebounds and blocking another shot.
Staring at a golden opportunity to erase Buchtel's three-point lead, the Bulldogs stumbled in a 60-51 loss.
'Unfortunately, the ball didn't fall the way we needed it to fall," Poland coach Ken Grisdale said after his team lost for the first time since Dec. 28. "Very proud of these guys — they competed their tails off."
After Poland trailed 33-29 at halftime, the Bulldogs (23-3) and Griffins (19-7) compiled fouls in rapid fashion to open the second half.
"We were stuck on 29," Grisdale said as the Bulldogs missed their first six shots of the third quarter. "We could have closed it and gone ahead.
"We had a breakaway where we could have gone up," Grisdale said. "We were there, had opportunities."
Senior Braeden O'Shaughnessy, who led the Bulldogs with 25 points in his final varsity game, credited the Griffins' role players for maintaining the lead while King and Chris Livingston watched.
"We just didn't take advantage of that opportunity," O'Shaughnessy said. "That was a big shot in the game where we could have [surged].
"We just couldn't do that," O'Shaughnessy said. "They are deep, they have 9-10 guys who can all play, can get on the floor and make something happen."
By the fourth quarter, just about every key player was in foul trouble, Poland committed 29 infractions, Buchtel 19.
The Bulldogs were 16 of 24 at the foul line, the Griffins 21 of 37.
King, who finished with 20 points, scored 19 in the first half when the Griffins had a chance to run away with a 27-18 lead.
"He played really well in the first half," Grisdale sid. "He hit a couple of 3s pure and then got us in the post a couple of times."
O'Shaughnessy said King at the start "took advantage of what we were giving him. First half, he killed us."
The Bulldogs reversed momentum in the second quarter, closing with an 11-6 run. O'Shaughnessy scored nine in that stretch with a 3-pointer, a basket and four free throws.
"One thing about this team is we never quit," O'Shaughnessy said. "We were down [nine] points, in the danger zone, and we never quit. We just fight as hard as we can."
Senior Daniel Kramer contributed 15 points, eight rebounds and two steals.
Grisdale, who has 26 seasons at Poland, said his program will miss four-year letter-winners O'Shaughnessy and Kramer.
"They mean everything [to the program,]" Grisdale said. "They are the [players] that [teammates] look up to.
"The guys on the court understood that we're going to be in positions to take advantage of [their skills]. When you find two special guys like that, you've got to build around them."
O'Shaughnessy said, "It's been a hell of a ride — four years with one of the best coaching staffs around, best coach around.
"Couldn't ask for anything else."
Buchtel advances to Friday's regional final to play Cleveland Villa Angela-St. Joseph (19-7), which defeated Cleveland Benedictine, 66-62 in the other semifinal.
Ronell Perie scored 18 and Livingston 10 for the Griffins.
More like this from vindy.com