Shale Tavern & Grille's Dual Experience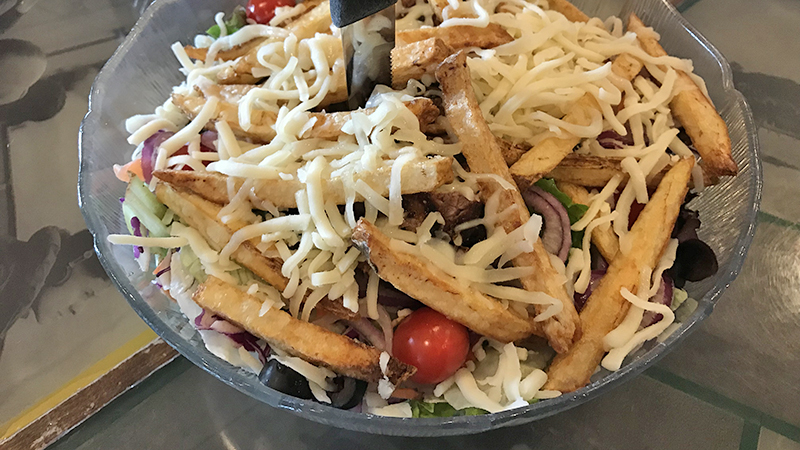 ---
By Corey Crisan
In Partnership with 21 WFMJ-TV
LISBON
A spacious environment to greet visitors to Columbiana County, Shale Tavern & Grille in Lisbon serves customers with big proportions.
Opened in 2012, Shale Tavern is a homey, comfortable place to enjoy classic, homestyle favorites.
Shale Tavern pairs as a two-section establishment with its spacious, homestyle setting. The restaurant is divided into the "tavern" room and the "grille" room, giving the customer a choice of experience.
The Tavern Room contains high-top tables, a fireplace, lounge chairs with a table to play checkers on, and plenty of televisions to catch that evening's big game. This room also features an antique bar laminated with classic photos of Lisbon and Mahoning Valley history.
The Grille Room is a vast dining area that complements the Tavern Room. Multiple seating options leave any guest with a vision of its stone fireplace or one of its many television screens, and it is connected to the Tavern Room, leaving the guests free to roam in and out of either area if they choose.
It also leads the way to an outdoor patio that serves guests in the spring and summertime.
"We sell a lot of burgers," Shale Tavern co-owner and Lisbon native Jeff Padurean says. "Burgers are a big thing. Our first manager here, his name was Joe. He came up with The Big Joe." It's a massive, double-decker, one-pound burger that is served with cheese and all of the traditional toppings.
Along with its full racks of ribs, half-chickens and jumbo-sized salads, Shale Tavern caters to big, working appetites.
"Throughout the week, we have a lot of contractors that come in," Padurean says. "The Days Inn has a lot of people in from out of town ... a lot of oil drillers, construction workers, people who come in from all over the state and country, and they enjoy being close to there [and] getting a cold beer."
Shale Tavern offers a local flavor throughout its selection.
"We have Numbers beer on tap," Padurean says. "They brew local here in Lisbon. That's a big draw for people."
Padurean and his father-in-law, Mike Naffah, are entrepreneurs who own the aforementioned Days Inn, among other establishments, that share the parking lot with Shale Tavern.
"It's tricky," Padurean said regarding juggling management duties. "It's not an easy task. We have good management down here that takes care of all the day-to-day stuff, so we're able to stay away from here a little bit. We get down here as much as possible."
Shale Tavern is right off of Route 11 in Lisbon, making it an accessible establishment for local residents, as well.
"Being right off Route 11 helps tremendously," Padurean said. "It's only 20 minutes from Canfield. [For] People looking for a place to eat from Canfield ... it's the same thing as driving across [Route] 224 to Poland."
Shale Tavern is open Monday through Friday at 2 p.m. and Saturday and Sunday at 11 a.m. For the full menu, visit shaletavernandgrille.com.
More like this from vindy.com