CHC students have fun with STEM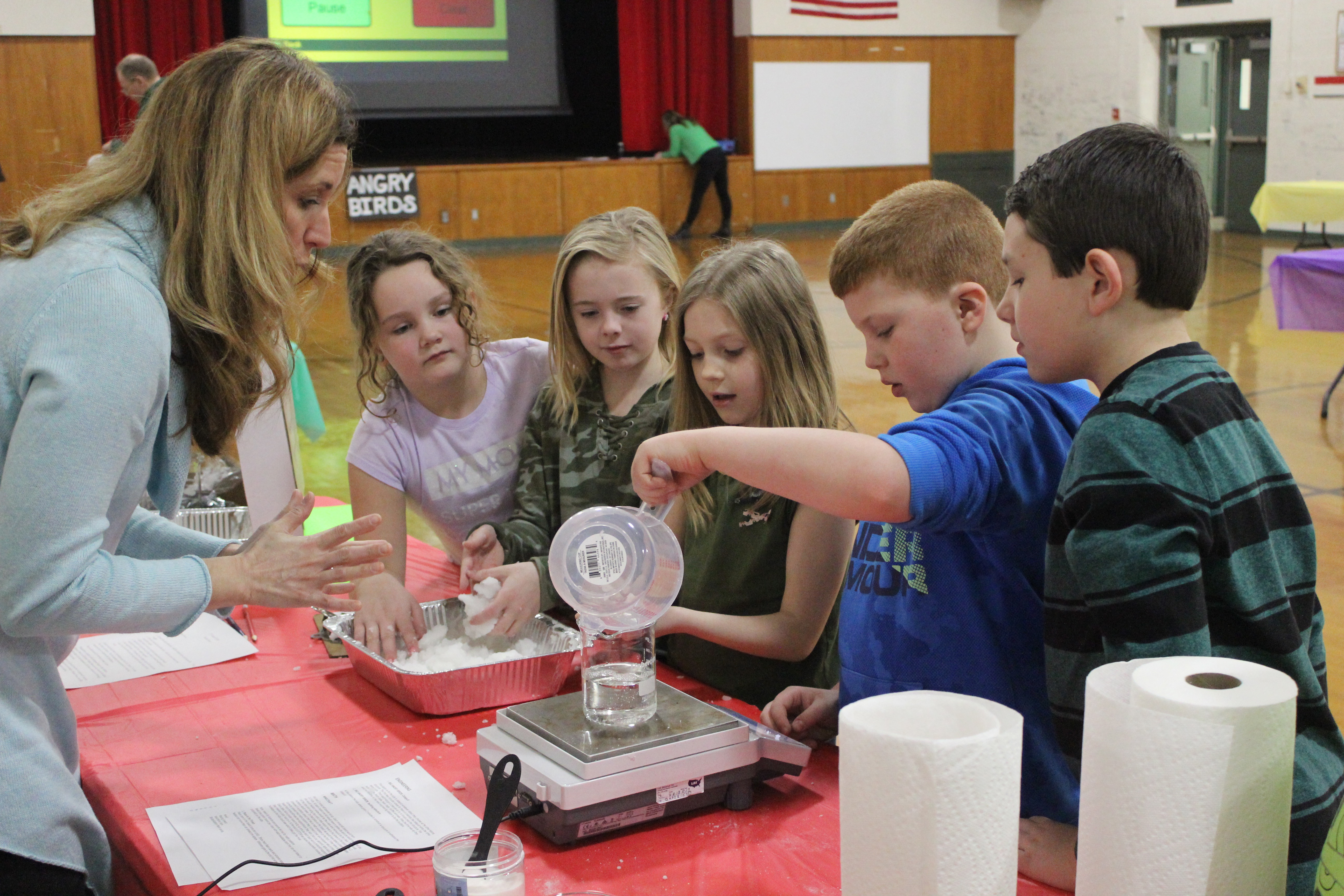 ---
By ABBY SLANKER
C.H. Campbell Elementary School hosted its annual STEM Week Feb. 25 through March 1, with each grade level designated a day to learn about science, technology, engineering and math.
Each grade enjoyed a STEM day with activities which were grade level appropriate and corresponded with the grade level's curriculum. Each class had one hour in the gym and was divided into groups, with each group assigned to a station and then they rotated through the science, technology, engineering and math stations, spending approximately eight minutes at each station.
PTO parent volunteers helped and instructed the students at each station.
"It's great how our parent volunteers have devoted their time to help with STEM. It's really awesome and we appreciate their help," said Melissa Styranec, third-grade STEM chairperson.
For the third-graders, there were two engineering stations. Channeling Angry Birds at the first station, students were asked to build a structure with blocks which could withstand balls and other items shot from a catapult at the other engineering station.
At one science station, students were taught about sublimation and chemical reaction using dry ice. Tim Styranec, parent volunteer and member of the Youngstown State University Health and Safety Department, performed several dry ice experiments for the students.
"I wanted to teach them about sublimation, but in a fun way. I compared dry ice to regular ice and explained how dry ice goes from a solid to a gas, while regular ice goes from a solid to a liquid, all because of carbon dioxide. I wanted to make it fun and hands-on as a way to get them interested in science. The younger they are when get interested in science the better, and one day they may pursue a career in science," Styranec said.
With the help of parent volunteer Michelle Sebastiani at the other science station, the students experimented with instant snow, helping to measure and weigh the materials. Students could also hypothesize about what would happen when water was added to the instant snow material.
For one math station, students played a giant game of Minecraft, solving problems and using graphing skills. The Minecraft game was a competition between the third-grade classrooms, with correct answers being tallied by class on a piece of poster board.
At the other math station, students played a game of Race to the End using multiplication flashcards. Each time a student got a flashcard answer correct, he or she moved the race car through the race track to the finish line.
The technology station was the same for kindergarten through fourth grade. This year, the students experienced airplane simulation using iPads. Students could see the plane's control panel on the screen and moved the iPad to simulate flying the plane. Students had a choice of six planes to fly.
"This is such a great program. I really like to see the students learning about science, technology, engineering and math while having fun doing it," Melissa said.
A Look and See table was set up in the middle of the gym for students to be able to touch and feel several items related to science, technology, engineering and math, including magnifying glasses, play dough, binoculars, magnets and kaleidoscopes.
More like this from vindy.com