Poland Historical Society revamps Little Red School House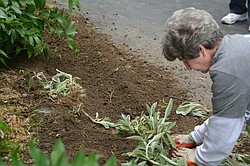 Photo
Neighbors | Submitted.Poland Historical Society member June Deeley landscaped outside of the Little Red School House June 2.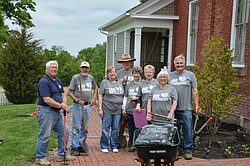 Photo
Neighbors | Submitted.Members of the Poland Historical Society Dave Zedaker, Larry Baughman, Diane Baughman, Chuck Gilbert, June Deeley, Debbie Gilbert, Laurie Fox and Mike Fox helped with landscaping outside of the Little Red School House June 2.
By JESSICA HARKER
The Poland Historical Society volunteered to revamp aspects of the Little Red Schoolhouse on June 2.
Members cleaned and organized the inside of the building, and worked outside on maintenance and landscaping.
"We worked really hard," said society member Laurie Fox.
Member John Himes worked on the outside of schoolhouse, which he scraped, primed and painted.
Another member, F. David Anderson, replaced the rotting wood on the bell tower.
Old dying shrubs and plants were also removed and replaced with new shrubs and flowers by members.
"The society is very appreciative of recent generous donations specifically earmarked for painting and landscaping from the Poland Women's Club, the Trailwood Gardeners Club and Thrivent Action Team," Fox said. "The society is dependent on donations and membership dues to continue to maintain the Little Red Schoolhouse and the museum artifacts inside the building."
Fox said that the public is invited to attend an open house at the School House on June 9 from 1-3 p.m.
"This is a great opportunity to visit the museum and to check out the hard work that members have been doing," Fox said.
Those interested in more information about the Poland Historical Society or to support the group community members can send a donation to the Poland Historical Society, PO Box 5052, Poland, OH 44514.
More like this from vindy.com