Coaches serves up a rainbow of beer selections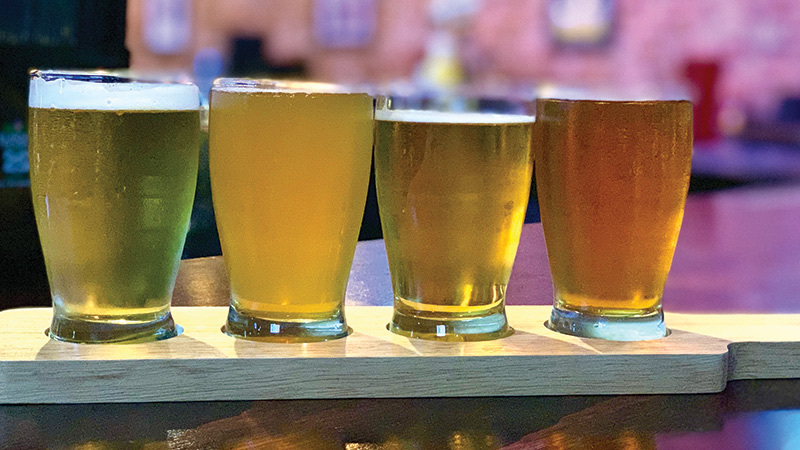 ---
If You Go
Establishment: Coaches Burger Bar
Address: 5529 Mahoning Ave., Weston Center Plaza, Austintown (other locations in Boardman, Lisbon, Poland and Salem)
Website: coachesburgers.com
Hours: Sun.: 11 a.m. to 8 p.m.; Mon.-Thurs.: 11 a.m. to 10 p.m.; Fri. & Sat.: 11 a.m. to 11 p.m.
Available: Craft beer, burgers, sandwiches, wings, pizzas, milkshakes and more
By Jim Cyphert,
Mahoning Valley Flight Crew
The Mahoning Valley knows Coaches Burger Bar best for outstanding hamburgers.
The locally owned restaurant chain won The Vindicator's 2018 "Reader's Choice" award for the Valley's "Favorite Burger."
But the Mahoning Valley Flight Crew judges restaurants based on craft beer selection.
We don't hit spots where the beer isn't up to snuff. Beer snobs? Maybe. But don't judge.
At Coaches, we had nothing to worry about.
The scent of burgers was mesmerizing, but we were on a craft beer mission.
Coaches' Austintown location has 25 beers on tap representing local, Ohio and national brands. Bottles also are available.
Coaches works with local breweries, R.L. Lipton Distributing, Superior Beverage and Premium Beverage Supply to keep its beer menu varied.
From Biker to Birdfish to Numbers to Penguin City, local beers were available. Other Ohio beers included Columbus, Great Lakes, North High and Rhinegeist. National brands included Deschutes and Goose Island.
According to owner Patrick Howlett, craft beer plays an important role at Coaches.
"Many people who like good burgers like good beer," Howlett said. "We find unique beers that are a hit with our everyday crowd."
Coaches is on pace to sell 135,000 hamburgers in 2019. Craft beer sales also are increasing.
Established in 2015, Howlett and his wife, Stacy, opened a fifth Coaches location in Lisbon in April. There also are locations in Boardman, Poland and Salem. The goal is 50 restaurants.
Coaches has big-screen TVs and sports decor. Along with beer and burgers, Coaches offers sandwiches, appetizers, wings, salads and milkshakes.
Coaches has an excellent Happy Hour deal Monday through Friday from 2 to 6 p.m. – half off all beers at the bar only.
Good people make the Coaches experience even better.
"You're only as good as the people you surround yourself with," Howlett said.
Emily Purnell, our bartender, took great care of us. She knew a lot about the beers and kept all six Flight Crew members' names straight.
These were our favorites during our Coaches visit:
Columbus IPA (6.3% ABV)
Jason Jugenheimer: "Today's trend in IPAs is hazy, juicy New England IPAs, and I love them. However, this is the first IPA I fell in love with, and I still keep this West Coast-style IPA in my fridge. It pours a beautiful orange color with pine notes present in the aroma and taste, but it's not overpowering. Instead, there's a balance of piney resin, malty sweetness and flavors of tropical and citrus fruits pulled from the hops. There's no bitterness in the finish, making this a wonderful beer to enjoy after a day of yard work or with any meal."
Alaskan Amber Ale (5.3% ABV)
Dave Shively: "Finding out that Coaches had Alaskan Amber Ale on tap was akin to walking into Cheers in Boston and seeing Norm perched at the end of the bar. In other words, it was like running into an old friend. I'm a big fan of Alaskan Brewing, and its Amber Ale is one of my favorites. Every time I sip on this malty red ale, I imagine that the water used to create this concoction was an ice glacier just weeks earlier. The beer is an Alt-Style Ale, which comes from the German word meaning "old." This is in reference to the much longer aging process that goes into the fermentation, giving this beer the flavor I adore. The best things in life take time, which is just fine for this old soul."
Goose Island IPA (5.9% ABV)
Roger Gillespie: "Everyone remembers their firsts. First car, first girl and so on. Many years ago, I stumbled across the Goose, not knowing anything about IPAs. It was my first IPA, and it's still my favorite style of beer. An English-style IPA, the Goose sports a 55 IBU and is easy-drinking. With all the IPAs available today, the Goose still finds a spot in my rotation."
Deschutes Fresh Haze IPA (6.5% ABV)
Jim Cyphert: "I was recently perusing the craft beer aisle in a local store. I picked up a six-pack of Fresh Haze, Deschutes' newest IPA to check it out. A stranger said, 'You've got to try that, it's amazing.' So, I took it home. When I saw Coaches had it on tap, I was all in. Deschutes says this one's 'Hazy with a chance of obsession." I agree. It has notes of orange citrus sweetness, a soft malty body and just enough hoppiness to hook you."
Cigar City Guayabera Citra Pale Ale (5.5% ABV)
Brian Long: "Maybe Pink Floyd was way ahead of the "craft beer" scene as stated in the first line of the song, 'Have a Cigar.' Were they talking about Cigar City beer? Guayabera is an easy-drinking American Pale Ale with a 50 IBU and can easily be an all-day beer. This sometimes-hard-to-pronounce beer is crisp and very smooth to drink, with citrus fruit notes of limes and oranges from the sole use of Citra hops. It's a refreshing, year-round go-to beer."
Great Lakes IPA (6.5% ABV)
Joe Sanfilippo: "You can't go wrong with one of Ohio's biggest and best breweries. On this trip, Great Lakes IPA was on tap and I wasn't disappointed. This is a dry-hopped American IPA. It's brewed with Simcoe, Mosaic, Lemondrop and Azacca hops and checks in at 50 IBU. It's definitely one you should try with one of Coaches' amazing burgers."
Recommended Flight Pattern: Add Coaches to your craft beer playbook, and enjoy some amazing food there, too.
More like this from vindy.com