Juniors punch GGOV ticket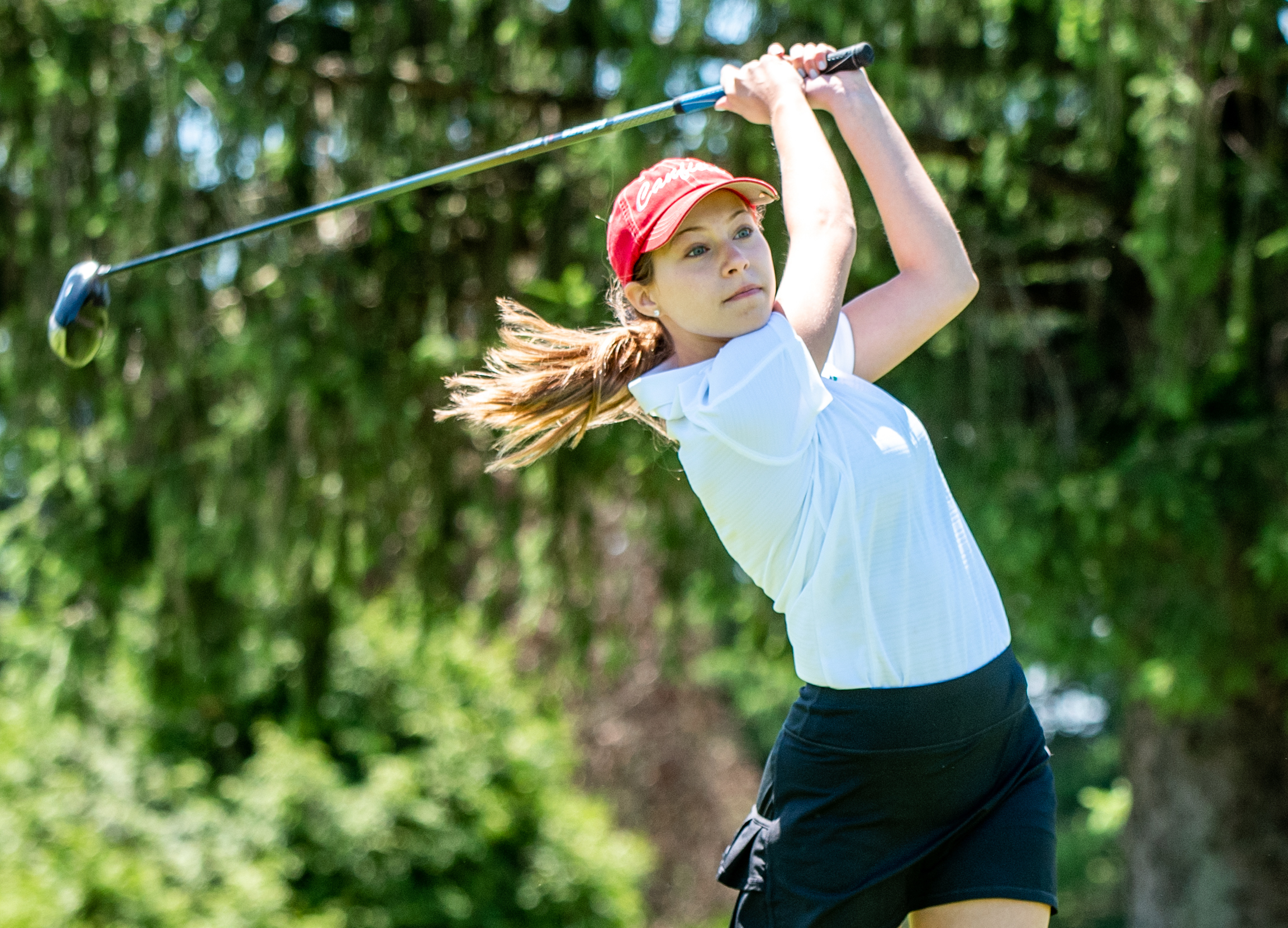 ---
51 golfers kick off season of qualifying
By Greg Gulas
HUBBARD
The Greatest Golfer of the Valley Junior competition kicked off Tuesday with 51 golfers taking part at Pine Lakes Golf Course.
Christopher Loychik of Niles carded 78 to capture the Dickey Electric boys 17U competition while Jayne Bernard of Cardinal Mooney shot an 87 to top the 17U girls scores.
Loychik took top honors by making five one-putts and needing just three-putts on two holes during his round.
In 14U play, Bryce Daggett of Avalon Lakes was tops in his division, carding an 82. Rocco Turner of Tippecanoe Country Club finished two strokes behind to come in second. Third-place finisher Caleb Domitrovich (88) of Mahoning Country Club was six strokes off the lead.
In 14U girls action, McKenzie Gustas of Pine Lakes carded an 87 for top honors.
"I was pleased with my score and had a good day driving, hitting the ball 290-300 yards consistently," Loychik said. "I put in a lot of hard work over the past two months, hitting the range about three hours each day, so it feels great to be the first qualifier."
Bernard continues to chase her first title and will join Loychik as the first 17U qualifier in her group.
She bested Sierra Richard of Blackhawk High School, who was two strokes off the lead. Jackie Adler of Hubbard and Poland's Carly Ungaro (43-47) tied for third with 90.
Bernard said she felt she could improve her putting, but her tee shots were the strength of her game.
"I didn't play my best, but was pleased overall with my round," Bernard said.
Other top finishers in 17U boys action included runner-up Kaiden Sykes, who was one stroke off the pace, Boardman's Ryan Sam (81) and fourth-place finisher Nathan Cene (82).
The group of Tyler Andersen of Columbiana, Jake Sylak of Mineral Ridge and Brandon Gibson of Newton Falls each carded 83.
"Despite the rain we've had, I felt like the conditions were great," Sykes said. "I hit my driver well while my chipping made up for my not-so-good irons.
"I had three three-putts and need to improve on that part of my game. My play was solid, not my best, but overall I was pleased my round today."
Sylak and Luke Nord (84) are two junior veterans, playing in their fourth overall event. Both entrants said the Greatest Golfer of the Valley has been an enjoyable experience.
"It's a lot of fun because you get to see a variety of talent from the area," Sylak said. "You don't always get to experience that when you're playing on your high school team."
Nord will be a junior at Poland this fall.
"It was great to be teamed with Jake [Sylak] today," Nord said. "Neither of us had our greatest round but we both had fun playing the course. I just need to get into tournament-mode now."
Richard felt like she gave away her round when she carded an 11 on the 10th hole.
"On the front nine, I was hitting everything well, but on the back nine my irons just weren't as crisp," Richard said. "I made some poor decisions on the back nine and it proved to be costly.
"I enjoyed the course, felt like it was in good shape and now hope to play in four of the next five qualifying events."
Todd Franko, Vindicator editor, said interest this year has been noteworthy.
"This is setting up to be our strongest junior field yet," Franko said. "The changing dynamics of youth sports have meshed nicely to give us this great situation.
"This year's first event was sold out and that hasn't happened before.
"Our other five qualifiers are selling fast and that's a testament to the local golf industry. Local professionals are grabbing the players early, keeping them engaged in the game and I like our role in the structure."
Pine Lakes professional Chris Carfangia has been a part all nine junior seasons.
"We were a part of the inaugural GGOV event and have been a part ever since," Carfangia said. "I enjoy working with Todd [Franko] and Ted [Suffolk] and would like to do even more in the future. This event is an isolated band of tournaments to our area and gives the kids an opportunity to grow as players.
"Some will be entering high school soon and to make it to the championship is an accomplishment in and of itself."
The second junior qualifier is set for Tuesday at Avalon Lakes. Tee-off is slated for 1 p.m.
More like this from vindy.com