Austintown Park hosts annual Kite Festival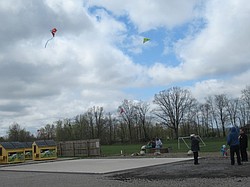 Photo
Neighbors | Jessica Harker.Community members flew kites at Austintown Park April 27 during the Kite Festival.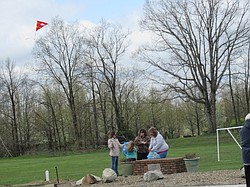 Photo
Neighbors | Jessica Harker.On April 27 children and their families flew kites at the Austintown Park's Kite Festival.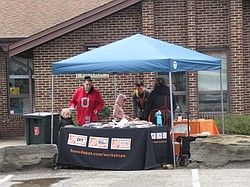 Photo
Neighbors | Jessica Harker.Representatives from Home Depot provided a craft for community members to make during the Austintown Park's Kite Festival April 28.
By JESSICA HARKER
Austintown Park welcomed in spring with the ninth annual Kids Shine for a Cure Kite Festival on April 28.
The event was organized by Brenda Rider with the A Way With Words foundation.
"It was just a fun event we all had a great time during the day," Rider said.
Community members gathered at the park from 12-4 p.m. for the event that was free and open to the public.
During the event, every child in attendance received a free kite.
Rider said they gave away more than 300 kites during the event.
"We ran out of pre-made ones less than 30 minutes in," Rider said. "It ended up being huge."
Community members were able to enjoy the park and try their hand at flying a kite to enjoy the spring weather.
Kids Shine for a Cure sold concessions during the event, the proceeds of which benefited the group.
Representatives from Home Depot were also present, offering a free craft for children to create and take home with them.
Members of the Austintown Police Department were also present during the event, allowing children and their families to ask them questions and examine police equipment.
APT along with the Mahoning County Sheriffs office also did a drone presentation for community members.
"I don't know who was more excited about that, the kids or us," Rider said. "The police were so great to come out and show us that."
The event has been running every year for almost a decade according to Rider.
"Many of my kids are growing out and becoming seniors," Rider said. "But we are still going strong."
More like this from vindy.com