Air Force vet walks across country to raise money for veterans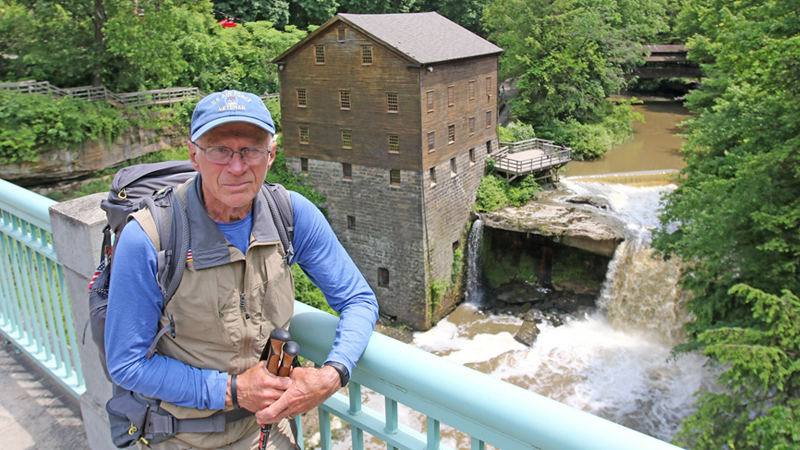 ---
By WILLIAM K. ALCORN
alcorn@vindy.com
HUBBARD
Air Force veteran William C. Shuttleworth stopped at the Waffle House here for his favorite meal – breakfast – and to talk about his walk from the East Coast to the West Coast raising money for disabled American veterans.
As of Tuesday morning, Shuttleworth had walked about 600 of the 3,400-mile trek at a rate of about 25 miles – or as he refers to it, "a marathon a day." He's raised about $35,500, according to his Go Fund Me account.
People who want to donate to Shuttleworth's cause can find a Go Fund Me link on his website, vetsdontforgetvets.com.
He left his home in Newburyport, Mass., near Boston, on May 15 and expects to reach his West Coast destination, Vandenberg Air Force Base, on Halloween carrying a 24-pound backpack he calls his kitchen, bedroom and dining room.
Shuttleworth, 71, who has three children, two stepchildren and seven grandchildren, was a special-education teacher and school superintendent in Maine before retiring in 2018. He served on active duty from 1970 to 1973 and in the Air National Guard from 1973 to 1975. He started thinking about walking across America several years ago.
He said the decision to walk coast-to-coast to raise money and awareness of military veterans issues was made after he and his wife, Patty, were camp hosts in a state park in California and saw and listened to a lot of military veterans coming through, many of whom couldn't get jobs or benefits and were homeless.
Shuttleworth said the first 600 miles of his walk across America was mostly on small country roads that make it easier to talk to people and to find diners, his favorite places to hear stories.
"If we could harness the energy at diners, we wouldn't need Congress," he said.
Shuttleworth said he has also learned that Americans generally care about military veterans but just don't know the desperate plight many of them are in.
"They are usually quiet people who say, 'These are the cards I've been dealt, and I'm going to have to live with them,'" he said.
One of his pet sayings is "Elect a vet."
Shuttleworth believes electing military veterans to office would make a positive difference in the country and improve medical benefits for veterans.
"Military veterans should receive medical and retirement benefits equal to members of Congress," he said.
Shuttleworth also advocates that everyone in this country should be involved in some type of national service, such as the military, the Peace Corps or Habitat for Humanity.
"It would give them a sense of what it is to be an American," he said.
For himself, Shuttleworth, 23 when he enlisted, said his time in the military, all state side, also gave him the sense that freedom is not free.
"War is not the answer, but we have to be prepared to defend ourselves, and everybody has to contribute," he said as he left the Waffle House to continue his walk.
More like this from vindy.com