Teens create glow in the dark masterpieces

Photo
Neighbors | Abby Slanker.Analise and Mariska Petrycki (right) of Poland created glow in the dark jars at the Canfield library on June 29.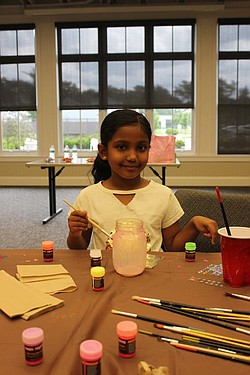 Photo
Neighbors | Abby Slanker.Aadya Sarma of Canfield decorated a glow in the dark jar to take home from the Canfield library.
By ABBY SLANKER
Teens and tweens gathered at the Canfield library to create glow in the dark jars on June 29.
Amanda Kollar, assistant supervisor, youth librarian, hosted the creative evening for children entering fifth grade and up.
Participants used special glow in the dark paint on the inside of mason jars to create their masterpieces. They could then use jewels to decorate the lid and outside of the jars.
"I thought this would be a fun summer craft to do. It allows everyone to show off their creativity and design their jars however they want. Everyone did a really good job today," Kollar said.
The library provided all materials for the glow in the dark jars and also provided snacks for participants.
More like this from vindy.com