Scacchetti's brings Experience and Taste to Canfield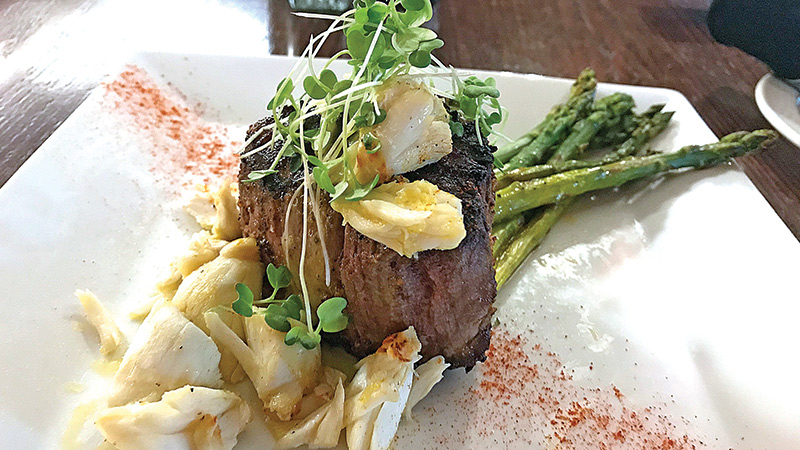 ---
$20 voucher for $10
Location: 6580 Ironwood Boulevard, Canfield
Hours: vary, closed Mondays
Fare: Steaks, chops, burgers, seafood
The deal: ValleyDeals365.com
Watch our interview with Scacchetti's executive chef Tony Scacchetti on
Valley Deals 365 - Scacchetti's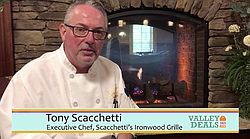 Video
By Corey Crisan
In Partnership with 21 WFMJ-TV
CANFIELD – Just off of Route 224 in Canfield is a restaurant that combines blue-collar and upscale. Led by the namesake and executive chef Tony Scacchetti, Scacchetti's Ironwood Grille is a local leader in fine wine, steaks and chops.
Tony Scacchetti was the executive chef at Tippecanoe Country Club before his friend, Mike Naffah, approached him about taking over the Ironwood Boulevard location. Naffah is the president of the Naffah Hospitality Group, which owns a number of hotels and restaurants in the area, including the neighboring Inner Circle Pizza franchise. Scacchetti took over the former WhiteFire Grille and Spirits and turned it into his own.
"I've known Mike for about 30 years, and we always tried to do something," Tony said. "WhiteFire wasn't doing real well, so he called me… He said, 'Why don't you take it?'… I was getting ready to leave Tippe anyway."
The multi-dining room facility of the former WhiteFire was taken over in 2018, and Scacchetti immediately hired his old staff back from the restaurant he ran for 12 years in Austintown before working at Tippecanoe.
Tony said, "I called a lot of my old staff, and they were like, 'Yeah, man! We're all in!'… Everybody came together and we got it open. A lot of my old guys from the old restaurant are here, and a couple of guys from Tippecanoe came over here with me. It worked out really well."
Scacchetti's could be classified as a steakhouse, but that does not limit its menu to only steak. In fact, most of the menu at Scacchetti's is crowd sourced.
"[We] were getting bombarded with requests," Tony said. "We did the menu, and people were coming in asking for more pastas… I think I added eight to ten pasta dishes. They want everything they had before. The new stuff we're doing has worked out well. Our beef is prime beef, and we're doing a lot of nice menu items. A lot of quality."
Scacchetti's offers four signature steaks, including a 'filet Oscar' – served with crab meat and asparagus and a homemade hollandaise sauce. The menu also features numerous other steak cuts, ribs, beef, lamb, chicken and seafood options.
"We go through a lot of meat," Tony said. "The meats are strong."
Those meats extend beyond the full menu, as Tony features a number of small plates for sharing. That menu includes lamb lollipops, filet tips, and a board with imported meats and cheeses.
Scacchetti's wine and spirits menu is objectively extensive. Local draft beer is sold, but the wine is the cash cow for Tony and his restaurant.
"I think we have about 110 different bottles of wine," Tony said. "We have all of the high-end bourbons and all of that."
The hours vary by day at Scacchetti's. It is closed on Mondays, opens at 3 p.m. Tuesday through Saturday, and opens for brunch at 11 a.m. Sundays. For more information and the full menu, visit scacchettisironwoodgrille.com.
More like this from vindy.com