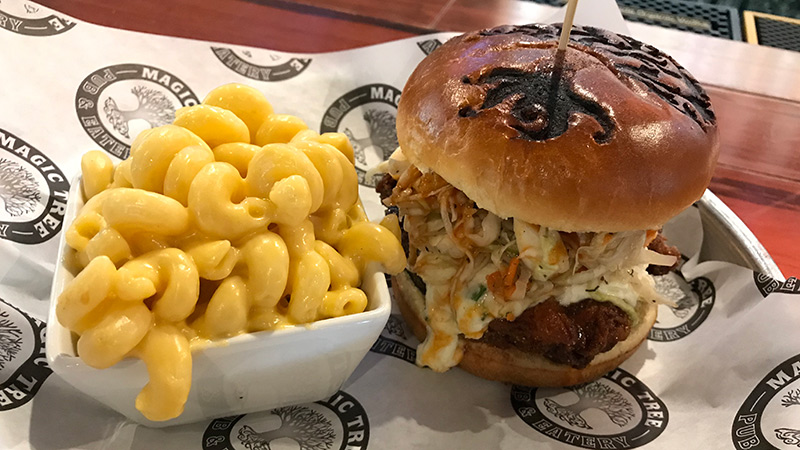 ---
Valley Deals 365 - Magic Tree Pub & Eatery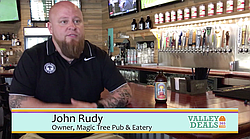 Video
By Corey Crisan
In Partnership with 21 WFMJ-TV
BOARDMAN – The craft-beer scene has blossomed throughout different areas of the Mahoning Valley over recent years. With breweries such as Penguin City and Noble Creature (Youngstown), BirdFish (Columbiana), and Biker Brewhouse (Austintown), among many others, expanding to distribute their creations, bars are picking them up and spreading the local flavor. Magic Tree Pub & Eatery in Boardman attributes itself as one of the pioneers of this movement.
"Anything that we do, we like to incorporate local," Magic Tree owner John Rudy said. "People are intrigued by what's going on. The growth of this brewery scene in this area is phenomenal. When we first started a while back, we were one of the only places where you could get the local beers. It's amazing that these local breweries now have their own places."
Magic Tree features a rotating selection of 41 beers and eight wines on tap. Rudy says there are usually nearly 75 kegs on-site and ready to go any given day. This includes a mixture of the local products and commercial products like Budweiser, Miller, and Blue Moon.
In addition to showcasing a revolving selection of beers, Magic Tree has hosted numerous breweries with the owners and brew makers in-house. This means customers can sample various creations and meet the people who make them.
"We've done 'tap takeovers' when they take over four or five taps," Rudy said. "The guests get to see a one-on-one with the actual brewers and owners."
That, in turn, has helped Magic Tree grow its selection of beers they bring in.
"You name anything local, and we have it," Rudy said. "We're a big part of State Line Brewer's Guild… we're a big sponsor with that [and] Youngstown Beer Week… Not even just our beers. We deal with local farms."
Some of those local farms include Premium Pastured Meats (Alliance), Walnut Hill Farm (Sharpsville, Pa.), and other farms within reaching distance of Magic Tree's South Avenue location.
The main attraction on Magic Tree's menu is their homemade soft pretzels. These include a one-pound regular pretzel, a jalapeno stuffed pretzel, a pepperoni pretzel and a cinnamon sugar pretzel. All are served with choices of dipping sauces.
"We're known for them, and we're famous for them," Rudy said. "We have people drive a half-hour just to come for our pretzels. Anywhere I go and somebody or I say 'Magic Tree,' they say they love our pretzels. Why not build around something that everybody loves? It's a win-win situation. It's something that has worked for us and that our guests love."
It's not only about pretzels. Magic Tree's burger selection offers nine options, including their take on a 'Juicy Lucy' – a burger with cheese stuffed in the patty.
"We have local, grass-fed beef," Rudy explained. "Literally raised 25 miles away from here. We not only use it for our burgers, we use it for meatloaf and our meatballs."
Magic Tree's seating area doubles as it opens a garage door on the side of the building. That leads to a canopied patio with a stage that faces both inside and outside the restaurant. Magic Tree hosts bands regularly on weekends.
"When the garage door is open, we have 120 seats on the patio and 120 seats inside," Rudy noted. "It's indoor-outdoor entertainment, so you can listen to the band inside or outside."
Magic Tree opens at 11 a.m. daily. For more information, visit magictreepubandeatery.com.
More like this from vindy.com