Gibson, Horvath qualify for Greatest Golfer finals at Tam O'Shanter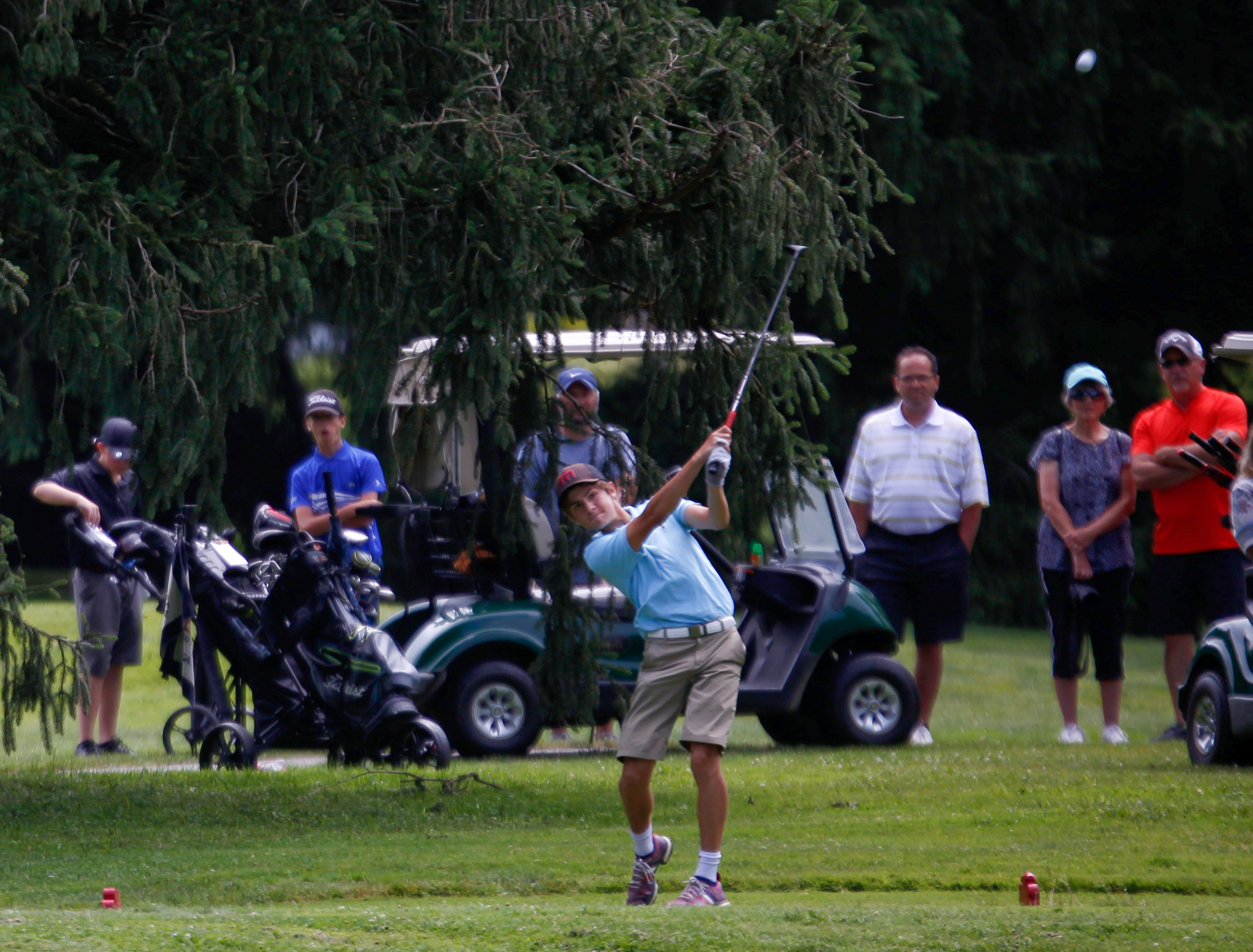 ---
Gibson, Horvath qualify at Tam O'Shanter
By Greg Gulas
HERMITAGE, PA.
Brandon Gibson and Madison Horvath each negotiated the challenging Tam O'Shanter Golf Course on Thursday to become the latest 17-U Greatest Golfer of the Valley Juniors qualifiers.
COMPLETE SEASON scoreboard/standings click here and scroll down to grid.
Gibson (39-38) was the first player to finish his round, carding 77 to set the bar for the remaining 26 players in the boys field while Horvath (42-41), who registered an 83, tied Leah Benson (43-40) for top honors in the girls division, four strokes ahead of Kyra Woods, who finished with 87.
Benson was playing on her home course, having qualified earlier by posting top honors during events at both Reserve Run and Salem Hills Golf Course.
In 14-U action, Landen Cameron (41-39) carded an 80 to secure his finals spot, two shots better than runner-up and earlier qualifier Rocco Turner (41-41) while McKenzie Gustas, who qualified at the opening event at Pine Lakes, was also playing on her home course as she took top honors with a 78, paving the way for Kate Sowers (49-38) to qualify with an 87.
"The course conditions were tough today because it was wet and if you got in the rough, it was tough to get out," said Gibson, who will be a junior this fall at Newton Falls High School and calls Riverview his home course. "You definitely wanted to be in the fairway.
"I was able to hit a few greens on the front nine but scrambled on the back nine to make it work. My approach shots were great, putting decent but overall I could have fared a little better."
Kaiden Sykes (39-39), a sophomore at South Range, was coming off Tuesday's 69 qualifying round at Salem Hills to tie Cameron Colbert (38-40) and finish a stroke behind Gibson.
"You needed to hit accurate drives today because the course played tight. I didn't do that," Sykes said. "My irons were good, as usual, but my putter wasn't. The greens were hard to read. I felt like I could have done better."
Colbert will be a junior at Hickory High School and lives just a few minutes away from the course.
"I've golfed here my whole life but don't necessarily feel like I have an advantage because you have to play well each time out," Colbert said. "I didn't exactly play my greatest. I just felt like I could have been more consistent as I relied on my putting to help me out."
Tyler Andersen (40-39) of the Links at Firestone Farms finished fourth with a 79, two shots off the pace.
Horvath, who will be a senior at Springfield, carded an 89 to finish fourth at Salem Hills on Tuesday, improving by six strokes Tuesday to earn her finals slot.
"This is an absolutely great feeling," she said. "My drives and irons were better than normal today as I relied on my putting. My drives were decent."
Like Colbert, Benson didn't feel like she had any advantage playing on her home course.
"The conditions are always different here so there really isn't a home course advantage. You do feel more comfortable, however," Benson said. "My long game was on and approach shots really helped. I had more greens in regulation, which also helped."
Woods (42-45) authored an 87 to finish third, four shots back while Alyssa Rapp (46-43) placed fourth, six shots off the pace at 89.
Caleb Domitrovich (39-45) of Mahoning Country Club, who qualified by carding 71 Tuesday at Salem Hills, finished with an 84 to place third in 14-U action, four strokes off the pace while in the girl's 14-U division, Luciana Masters (50-48) finished third with a 98.
PGA director of golf and Tam O'Shanter owner John Kerins was impressed with the enthusiasm of this year's field.
"I was very pleased with the turnout this year," Kerins said. "There was plenty of sportsmanship and plenty of competition. In addition to the boys, it was great to see how many girls at the junior high and high school level are playing the game."
The sixth and final junior qualifier is set for Tuesday at Avalon Lakes with a noon start.
More like this from vindy.com