CLS celebrates artists at annual show

Photo
Neighbors | Abby Slanker.Emma Dodig-Dranotusky was chosen as the first runner up at the 2019 Canfield Local Schools Student Art Show on May 21.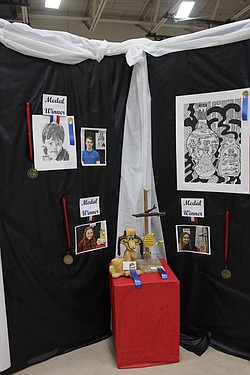 Photo
Neighbors | Abby Slanker.Medals and ribbons were awarded to Canfield High School students at the 2019 Canfield Local Schools Student Art Show on May 21.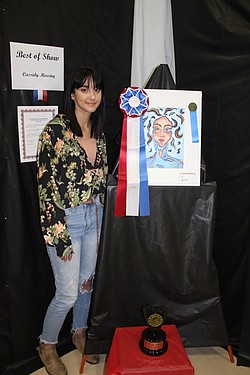 Photo
Neighbors | Abby Slanker.Canfield High School senior Cassidy Mersing was named Best of Show winner at the 2019 Canfield Local Schools Student Art Show on May 22.
By ABBY SLANKER
Families, friends, students, community members and art lovers attended the 2019 Canfield Local Schools Student Art Show, which highlighted works of art from C.H. Campbell Elementary School, Hilltop Elementary School, Canfield Village Middle School and Canfield High School students, at the high school gymnasium on May 22-23.
Approximately a thousand pieces of art were displayed from the art students. Senior art students created their own display booths and chose which pieces of art from their classes they wanted to display.
The art students used several mediums to create their pieces, including computer graphics, 3-D sculptures, digital imaging, movies, pencil drawings and oil on canvas.
Each piece of the high school students' art was entered into the judging. Medals were awarded to the top 59 award winners, with trophies going to the top 10 winners.
The top 10 included: best of show - Cassidy Mersing; first runner up - Emma Dodig-Dranotusky; second runner up - Kaitlyn Burrows; third runner up - Emily Dunlap; fourth runner up - Kate Kadilak; fifth runner up - Steffie Marciniak; sixth runner up - Lauren Johnson; seventh runner up - Michelle Fulton; eighth runner up - Jenna Allender and ninth runner up - Zoe Kabetso.
Judging the art show was Claudia Berlinski who has been at Youngstown State University for 18 years where she has served within the Department of Art as professor, foundation program coordinator and assistant to the chair. Professor Berlinski has also recently taken on the role as McDonough Museum coordinator. Also serving as a judge was Dr. Lillian Lewis, assistant professor of Art Education at the Department of Art, Youngstown State University.
Kathryn Antal and Kevin Hoopes are the Canfield High School fine art teachers and Pete Graff is the computer graphics instructor. Nancy Hulea and Heidi Garwig serve as art teachers at CVMS and Diane Leonard is the elementary art teacher at both Hilltop Elementary and C.H. Campbell Elementary. Canfield High School Family and Consumer Science students also displayed their projects, along with students of Wood Tech teacher John Ihnat. Engineering Graphics and Robotics students of Don Crum were also represented at the show.
Best of Show winner Mersing did not expect to win with her untitled watercolor painting.
"I did not expect it, but I am definitely not disappointed," Mersing said.
Mersing plans to study art, but has not quite decided which direction she will go.
"I am going to study art. Since I was a kid, I have felt like art was my thing. I have taken every art class here at the high school. I like oil and watercolors. And I am interested in tattoo art. I did a job shadowing and internship through the school and I really enjoyed it," Mersing said.
Mersing said she is very appreciative of Hoopes and all his help throughout the years.
"Without Mr. Hoopes, I would have never known anything like the basic facts about art. He helped me through all four years of art classes and I couldn't have done it without him," Mersing said.
Teachers Hoopes and Antal are both very proud of their students.
"The kids have produced incredible art this year. I am proud of their efforts and what they have done. This is a great show as we have very talented kids. They are very hard working, We have a strong art program from elementary to the high school. That lays the foundation for what the kids are able to do up here at the high school level. We are so appreciative of the community's support. It is a privilege to teach in this community," Hoopes said.
Members of the Canfield High School art club had a Chinese auction, with proceeds benefiting the club, which is self-funded. Light refreshments were also provided for attendees of the show.
More like this from vindy.com