CHS Soccer Boosters host 11th annual Cardinal Classic

Photo
Neighbors | Abby Slanker.The Canfield High School Lady Cardinals played Kirtland during the 11th annual Cardinal Classic Soccer Tournament hosted by the Canfield Soccer Boosters on July 6.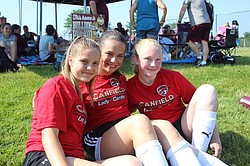 Photo
Neighbors | Abby Slanker.Members of the Canfield High School Lady Cardinals soccer team waited to play their next game at the 11th annual Cardinal Classic Soccer Tournament.
By ABBY SLANKER
The Canfield High School Soccer Boosters hosted its 11th annual Cardinal Classic Soccer Tournament July 6-7 with 41 schools participating in the two-day event.
Five fields were in use, all located on the high school grounds, with several schools bringing two or more teams to play 40-minute games.
The tournament took place throughout two days, with the girls teams playing Saturday and the boys teams playing Sunday.
Teams from Ohio and Pennsylvania participated in the boys' and girls' divisions and included Salem, Berlin Hiland, Field, Niles McKinley, Girard, East Liverpool, Hubbard, Austintown Fitch, West Branch, Hathaway Brown, Columbiana, Crestview, Boardman and Marlington, along with numerous teams from the Akron, Cleveland and Columbus areas.
The Cardinal Classic is a key fundraiser for the Canfield High School boys and girls soccer program, and was organized by the parent members of the Canfield Soccer Boosters, with Tracy Stein serving as president.
Proceeds from the annual tournament are used to buy new uniforms, team camp and tournament fees for both the boys and girls teams, according to Stein.
The goal of the tournament was to give the coaches a chance to view the players pre-season and to prepare for the fall season. Coaches used this opportunity to see the players with the ball and to learn what the team needs to work on for the upcoming fall season. It also gave the coaches a chance to watch the players and get a sense of which players to select for the junior varsity and varsity teams.
The tournament also had community support and corporate sponsors, which included Cocca's Pizza, DiRusso's Sausage, Fusillo Flooring, Ghossain's Foods, Hattenbach, Home Savings, Hunter Electric, Jarvie Performance Castings, Kambrook Seal/Coat, Levi's Landscape and Design, MS Consultants, Padget Dental, Rogue Auto Wash, Russo Builders, Sensource, Simon Roofing, Simply Bliss, Starhill Consulting, TSI-Managed IT Services VSN Fitness, the Accordino family, the Atway family, the Goodrich family, the Hartman family, the Jarvis family, the Kahout family, the Kalina family, the Palma family, the Stein family and the Stilson family.
Canfield Soccer Boosters parents volunteered at the tournament in every aspect from the concession stand to selling T-shirts to registration and helping set up the tournament the day before. Members of the Canfield High School National Honor Society were also able to earn service hours by volunteering at the tournament.
More like this from vindy.com