Rotary inducts new member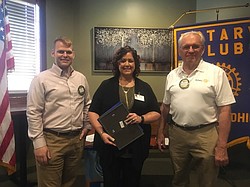 Photo
Neighbors | Submitted.Poland Rotary President David Moliterno, posed with recent inductee Kimberlee Duncan, and President Elect Bill Cruciger.
By JESSICA HARKER
The Poland Rotary inducted a new member into the group on May 29. Kimberlee Duncan, the Director of Windsor House, was the new inductee.
"I wanted to be a part of the group because of all the charity work they do," Duncan said.
She explained that it was because of her work with the elderly that she became interested in the group.
"It's because of my career that I really want to make a difference," she said. "To make sure the elderly get the attention and recognition that they deserve because of everything they have done for the community."
Duncan said she was excited to start working with the Rotary, and was inspired by their annual Casino Night.
"I got to see all of the money that they raised, and even hear from the different groups how they would be able to use the money," Duncan said.
Rotary President Elect Bill Cruciger said that the group was excited to have Duncan on board.
"We are thrilled to have someone so dedicated to the community be a part of our organization," he said.
The group is planning a number of events for the rest of the year. For more information on upcoming Poland Rotary events, go to the group's Facebook page.
More like this from vindy.com