---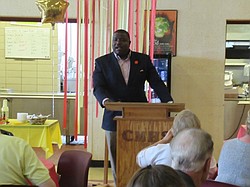 Photo
Neighbors | Jessica Harker.Mayor Jamael Brown honored teachers retiring from Cardinal Mooney High School June 4 at the schools retirement luncheon.

Photo
Neighbors | Jessica Harker.Retiring teacher Nancy Shugart admired a gift given to her at Cardinal Mooney's retirement luncheon on June 4.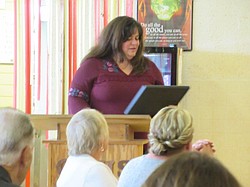 Photo
Neighbors | Jessica Harker.Cardinal Mooney Assistant Principal Teresa Yarger accepted a gift honoring her last day as assistant principal before moving to be principal of St. Charles next year.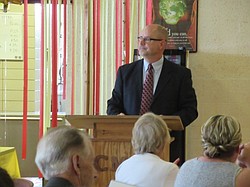 Photo
Neighbors | Jessica Harker.Dave Kahoot, a motivational speaker and friend of the teachers at Mooney gave a speech honoring retiring teacher Nancy Shugart June 4 at the school's retirement luncheon celebration.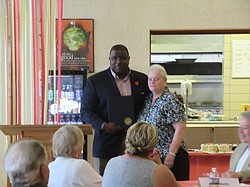 Photo
Neighbors | Jessica Harker.Mayor Jamael Brown posed with retiring teacher Nancy Shugart after honoring her 56 years of teaching at the Cardinal Mooney retirement luncheon.
By JESSICA HARKER
Cardinal Mooney High School hosted a retirement luncheon for teachers on June 4.
The event honored Nancy Shugart, who was retiring after teaching at the school for 41 years.
"Every year was a new year because you start out with new students," Shugart said. "My contact was unbelievable with the number of kids I saw."
Shugart taught theology at the school, which was a quarter course and was required for every student at Mooney.
She said that because of this she saw almost every student to pass through the walls of the school, including 13 of her nieces and nephews.
Shugart also coached the track team for years, and took statistics for the football team for 25 years.
During her time as coach, Shugart said that the team went to state every year, winning their events.
"We wouldn't just go down their and play around, we have to win our events and then we would have fun," Shugart said.
To honor Shugart's last year of teaching Mayor Jamael Brown visited the school.
"Thank you for your years of service," Brown said. "Our schools are nothing without dedicated teachers like you."
Along with the Mayor, motivational speaker, and friend of Shugart's, Dave Kahoots also talked about the impact she had on the students.
"Education is the key and the foundation," Kahoots said. "Nancy is the person who unlocks that door."
A number of honors and awards were bestowed on Shugart during the event for her many years of service.
But Shugart said it just feels like another end of the school year.
"I am looking forward to getting rid of all of my school clothes," Shugart said. "I am going to bag them all up and send them to Good Will."
She said that her plans for retirement were to enjoy more time with her family, including her seven brothers and sisters and their children.
"I am grateful for all of the kind words I have received," Shugart said. "I got tons of emails from past students who graduated from Cardinal Mooney."