Basketball tournament honors Reel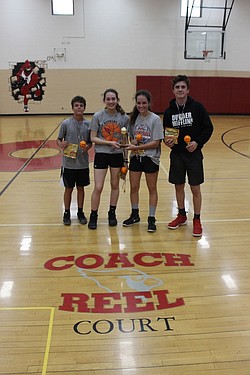 Photo
Neighbors | Abby Slanker.The team AAC Short Shorts Gang, from left, Chris Lorelli, Abby Muckleroy, Kate Sahli and Broc Lowry were crowned champions of the Reel Madness basketball tournament at Canfield Village Middle School on May 10.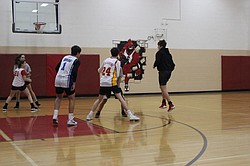 Photo
Neighbors | Abby Slanker.Canfield Village Middle School eighth-grade students played the championship game of the Reel Madness basketball tournament on May 10.
By ABBY SLANKER
Canfield Village Middle School teacher Sabrina Eaton organized Reel Madness, a basketball tournament in memory of Coach Ken Reel, the week of May 6. The tournament was open to seventh- and eighth-grade students who formed teams for the three-on-three co-ed tournament. Twelve four-player teams, who were tasked with coming up with a team name, competed throughout the week.
Each team paid an entry fee, with all proceeds being donated to the Leukemia and Lymphoma Society research grant in Reel's name. Along with the entry fees, staff donations were also collected and will be included in the donation to the society.
"Reel Madness was started to honor Coach Ken Reel, former middle school teacher and girls basketball coach, who passed away from T-cell Lymphoma. This event means the world to me because Mr. Reel was not only a teacher, coach and colleague, but he was a dear friend and mentor to me and so many others," Eaton said.
Eaton said Reel made an impact on everyone around him.
"During Mr. Reel ¥s tenure at the middle school, he taught American History and coached the eighth-grade girls basketball team. His passion and love for teaching and coaching was felt and experienced by everyone around him. We keep his spirit alive in the hallways by recognizing five females and five males, who exude character, responsibility, school spirit and citizenship with the Ken Reel Citizenship Award every year," Eaton said.
Eaton hopes to continue the tournament next year and make it bigger,
"We hope to get more teams next year to participate, maybe even include the fifth- and sixth-graders. I would like to thank Mr. Rubin and Mr. Flood for their continued support and guidance. I could not have done it without the help from my fellow colleagues and friends: Mr. Jason Jugenheimer, Mr. Mike Merritt, Mrs. Rene Nagy and Mr. Jared Turocy," Eaton said.
The semi-final and championship games were played in front of seventh- and eighth-grade student body on May 10. After some hard fought competition, the team AAC Short Shorts Gang of Broc Lowry, Chris Lorelli, Abby Muckleroy and Kate Sahli, were crowned champions of Reel Madness.
The runner-up team was The Average Joes, with team members Jameson Beck, Ben Slanker, Kenzie Koenig and Haydyn Merritt.
Eaton presented the winning team individual first place trophies, a Reel Madness champion trophy and a bag of Werther's Originals.
"Mr. Reel always used to give out Werther's Originals, they were his favorite, so I am giving those to the winning team today," Eaton said.
The Reel Madness champion trophy will be placed in the school's trophy case along with a photo of the winning team.
"There's still time to donate, so if anyone would like to make a donation, they can email me at seaton@canfieldschools.net," Eaton said.
More like this from vindy.com