Eagle Scout project involves VA Clinic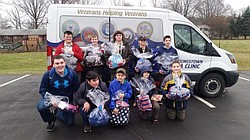 Photo
Neighbors | Submitted.On Dec. 15, members of Boy Scout Troop 9002 in Poland delivered 72 no sew fleece blankets to veterans at the Cleveland VA Medical Center. Scouts who made the trip were, from left, (front) Colin McDonald, Nick DiTommaso, Alex Mamounis, Gabriel Dearing, Mitchell Bogan; (back) David Vuksanovich, Jason Vuksanovich, Braxton Jones, Noah Dearing and Conner Blumel.
Braxton Jones, joined by members of Boy Scout Troop 9002 in Poland, delivered 72 no sew fleece blankets to veterans at the Cleveland VA Medical Center.
This trip was the final step in completing Jones's Eagle Scout Project. The fleece material had representation of the five branches of the military, stars, stripes, camo and some pink designs for women veterans.
The project began in September following its approval and was inspired by his many military veteran family members, including his mom.
He received donations from family and friends, along with several organizations like the Youngstown Rod and Custom and The First Catholic Slovak Ladies Association. In addition, the staff at Joanne Fabrics in Boardman was of great assistance pre-cutting the fleece to specified measurements.
Jones and members of his troop met to cut and assemble the blankets, as well as packaging and labeling each individually.
The Scouts first visited the spinal cord injury area of the hospital and went room to room talking, presenting blankets and thanking the veterans for their service. One of these veterans told the Scouts that he worked in the kitchen at Boy Scout Camp Manatoc in Peninsula, Ohio in the late 1980's. They traded stories of what is was then and how it is now.
Next was a visit to the recreation room where there was a holiday celebration going on and the rest of the blankets were passed out. Troop 9002 Scouts got a round of applause and thank you's when exiting.
The visit made an impact on not only the veterans, but also those Scouts visiting.
"The experience made me appreciate the sacrifices veterans make for us every day even more" said Jones.
The VA authorized the use of two vans from the Belmont VA Clinic in Youngstown to transport Scouts and adults to and from the VA Hospital in Cleveland.
VA volunteers Tom Semer (U.S. Army Veteran) and Leslie Axelson were drivers. Volunteer services contacts at the VA that assisted with arrangements were Christine Parker and Cesar Ermano.
Jones has participated in scouting since age 6 and is currently a sophomore at Poland Seminary High School where he is also a member of the marching band and the speech team.
More like this from vindy.com