Sammarone powers Canfield over Harding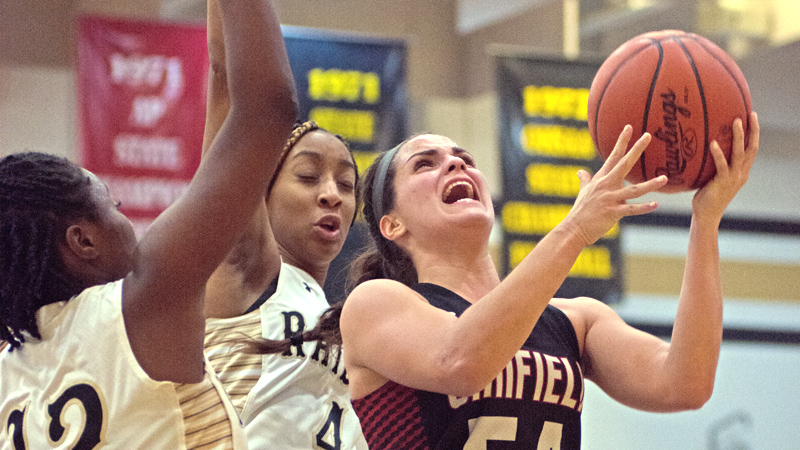 ---
Senior scores 18 points as Cardinals
survive on road against Raiders
By BOB ETTINGER
WARREN
Serena Sammarone has an instinct that kicks in when a game is hanging in the balance. When that happens, she wants the ball in her hands.
Sammarone took complete control for less than a minute, but it was all she needed in leading the Cardinals to a 47-43 come-from-behind victory at Warren Harding on Wednesday night.
"The whole game, we were struggling," Sammarone said. "All of us try and step up and contribute when that's happening. That moment was mine, but we all found a way to contribute to put us ahead."
With 2:52 to play in the third quarter, Sammarone knocked down a 3-pointer from the wing to get the Cardinals (9-2, 1-0 All-American conference Red Tier) within two, 30-28. Following Diamond Phillips' triple for the Raiders (8-3, 0-1) to push the Harding lead back to five, Sammarone made a pair of steals and cruised in for two layups. That flurry closed the Cardinals' gap to just one, 33-32, with 2:02 left in the period.
"She's been doing that for four years," Canfield coach Matt Reel said. "She's one of the best competitors I've coached. Wants the ball in her hands and she will live with the consequences of that, win or lose. She'll do whatever it takes. She showed that tonight."
Serena Sammarone led Canfield with 18 points, Grace Mangapora had 14 and Gianna Flask added 11.
Mangapora took her turn near the end of the third, first knocking down her own 3-pointer, then a jumper in the lane to complete a 9-0 run to give Canfield its first lead of the night, 37-33, heading into the fourth.
Two more layups from Sammarone pushed the Cardinals' advantage to six (43-37 with 3:08 to play), then seven, 45-38, with 2:19 remaining.
Harding built a 26-13 with 2:13 left in the first half following a jumper from Faith Burch.
"We were focused on the little things," Harding coach Frank Caputo said. "We finished at the bucket. We slowed the tempo down and took the fast breaks when they gave them to us. We got out of sorts and tried to force things. If we don't force it, we do some really good things."
Canfield began its comeback with seven straight points to end the half. Summer Sammarone got it going with a layup before Serena Sammarone scored on a wild scoop shot from the lane and then hitting a 3-pointer to get the Cardinals within six, 26-20, at the break.
Kamarah Bender paced the Raiders with 14 points.
More like this from vindy.com