Austintown native drives North High brewing's success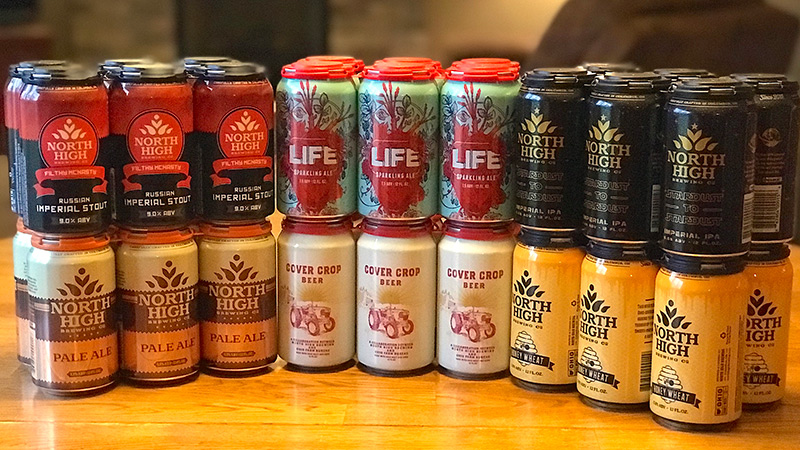 ---
By Jim Cyphert,
Mahoning Valley Flight Crew
Columbus
Accepting sage counsel from a mentor often leads to success in life and business.
That happened for Austintown native Tim Ward Jr.
IF YOU GO
Establishment: North High Brewing Co.
Address: 1288 North High St., Columbus
Website: www.northhighbrewing.com
Hours: Mon.-Thurs.: 2 p.m. to 12 a.m.; Fri. & Sat.: 12 p.m. to 2 a.m.; Sun.: 12 p.m. to 10 p.m.
Available: Brew on premises, flights, pints, growlers, merchandise, etc.
"My dad always said, 'Life's too short to drink crap beer,'" said Ward Jr. "That's some of the best advice I ever got."
Tim Ward Sr., known as "Big Tim" at the brewery, had no idea this piece of advice would have a profound impact on his son.
Ward Jr. partnered with Gavin Meyers to open North High Brewing in 2012. Once one of the capital city's up-and-coming breweries, it's now one of the city's largest.
By providing award-winning craft beer, North High does its part to ensure thousands across the Buckeye State don't have to drink "crap beer."
Ward Jr., a 2001 Austintown Fitch graduate, studied mechanical engineering at Youngstown State University. He was hired by Honda as an engineer in 2006.
While studying for his MBA at Ohio State University, Ward Jr. met Meyers. Part of their studies included developing a business plan for a brewery.
The duo recognized an opportunity to bring a new kind of brewery to Columbus, one that focused on the experience of brewing. North High was born as the city's first and only brew-on-premises establishment.
In addition to customers brewing their own beer, North High creates high-quality craft beer served in its taproom and at restaurants and bars. Its beer also is available at grocery stores and retail outlets throughout the state.
"Growth happened quickly for us," Ward Jr. said. "We realized we needed to focus more on wholesale and change our business model."
Sales were up 25 percent last year. Ward Jr. expects another 25 percent increase this year.
At its taproom, North High offers an array of beer from its year-round staple such as the award-winning Pale Ale, seasonal offerings and occasional taproom-only beers. There are 30 taps to please everyone from hop heads to those just getting into craft beer.
Premium Beverage Supply distributes North High beers in the Mahoning Valley, and Ward Sr. helps sell beer here.
"We focus on having the right variety of quality beer in Ohio," Ward Jr. said. "There's lots of room to grow here."
North High can be found locally at Chalet Premier, Giant Eagle, Lou's, Vintage Estate, and more locations.
We met Ward Jr. at a North High beer pairing at Barrel 33 in Howland (thanks to Brian Fry). We also had the pleasure of meeting his mother, Carol, and Big Tim.
Here are the beers that tantalized us:
Old Man McNasty (Pub Exclusive, 10+% ABV)
Jason Jugenheimer: "I don't always gravitate toward barrel-aged beers ... that may change after tasting Old Man McNasty. When you take an awesome 9 percent Russian Imperial Stout like Filthy McNasty, barrel age it in OYO barrels and create Old Man McNasty, you get pure bliss. My only regret, and perhaps it's a good thing, is that Old Man McNasty is a pub-exclusive beer generally only available in small quantities in Columbus. Filthy McNasty is available here in the Valley."
Life Sparkling Ale (7.5% ABV)
Joe Sanfilippo: "Ring in the new year with this unique American Ale. It was perfect for toasting in 2019. Life is highly carbonated and made with a blend of champagne yeast. It pours a clear golden color with a sweet aroma. Made with Northern Brewer and Hallertauer Blanc hops, this checks in at 12 IBU."
Honey Wheat (5.8% ABV)
Dave Shively: "With all the locally sourced ingredients used to create North High's Honey Wheat, this beer can proudly proclaim it was born and raised in the Buckeye State. Using locally produced honey and grains from central Ohio, this American-style Ale pours out in a hazy golden hue with a malty finish. I was picking up a Nabisco Wheat Thin-type flavor as its overall profile. Honey Wheat would be the type of beer that I'd want a noncraft beer drinker to try, to serve as a gateway toward something a little bolder and braver. This one, for me, gets two thumbs up!"
Stardust to Stardust (8.8% ABV)
Roger Gillespie: "This Imperial IPA pours a slightly hazy gold with a beautiful white head. Using Galaxy, Apollo and Comet hops as a tribute to Starman David Bowie, this Double IPA carries an ABV of 8.8 percent. The bitterness is softened by the aroma of pineapple, citrus and mango, noticeable on the first pull. I really enjoyed this beer."
Cover Crop (4.5% ABV)
Brian Long: "Cover Crop is a Blonde 'Golden Ale' released late in 2018. This light-bodied beer is easy drinking and would be a perfect gateway beer to anyone interested in craft beer. Yet, it's crisp and has a delightful taste so the more advanced enthusiast can 'crush' many of these. This collaboration with the Ohio Farm Bureau is brewed with local malts and hops sourced by Rustic Brew Farm. Cover Crop could easily take the place of a lot of national beers. With a 4.5 percent ABV and great flavor, it can be enjoyed any time of the year. Cheers!"
Pale Ale (5.5% ABV)
Jim Cyphert: "I was fortunate to draw the first North High beer I'd ever tried and one of the brewery's original classics. Pale Ale was a medalist at the World Beer Cup. It's easy to see why. It's an extremely easy-drinking, dry-hopped pale ale. Delightful aromas of tropical fruit, citrus and herbs are showcased. It's an excellently balanced beer that's perfect for someone new to craft beer or even a long-time craft fanatic."
Recommended Flight Pattern: Heed Big Tim's advice. Find North High beers at your local craft beer outlet, and when in Columbus, stop by the brewery.
More like this from vindy.com