Dunn, Smolinski help YSU women dominate UIC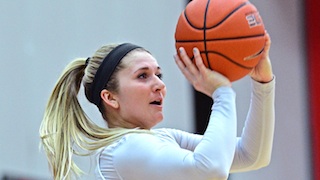 ---
YSU v. UIC Women's Basketball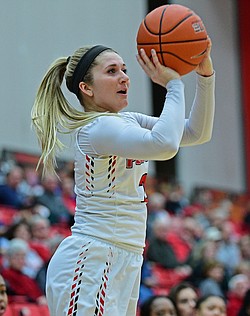 Gallery
By Greg Gulas
sports@vindy.com
YOUNGSTOWN
Mary Dunn had a game-high 26 points, Allison Smolinski added 20, including five 3-pointers to pace four Penguins in double figures as Youngstown State routed Illinois at Chicago 81-29 Thursday night at Beeghly Center.
Dunn also added 13 rebounds for the game's only double-double. Smolinski entered the game needing one 3-pointer to become the third player in program history to record 200 career triples. She now has 204 and is tied with former teammate Indiya Benjamin for second-place all-time.
Last year's teammate, Nikki Arbanas, is the current 3-point leader having registered 209 during her four-year career.
"The guards were throwing really good passes tonight. They were throwing it right to my hands and all I had to do was go up and put it in," Dunn said. "I was just focusing on finishing, but most of the credit tonight goes to the guards."
Ten points by Sarah Cash and seven from Smolinski staked YSU (11-3, 3-0 Horizon League) to a 23-5 lead after the first period.
Smolinski's 10 points in the second quarter, coupled with a stingy defense that held the Flames (2-12, 0-3) to just five and six points, respectively, in the first two periods, helped YSU open a 50-11 margin at the intermission.
The 11 points by UIC in the opening 20 minutes was the second-fewest allowed in program history. YSU held Detroit Mercy to eight first-half points on Jan. 13, 2007.
Arbanas was in the crowd to watch Smolinski.
"I learned a lot from Nikki. She's one of my best friends so it was an honor getting to play with her," Smolinski said. "I played with a couple of amazing shooters, players like Indiya Benjamin and Kelsey Newman. That's where I learned how to shoot."
She said she isn't a numbers person when she is on the court.
"I don't actually think of any of that, it just gets to my head. I just shoot the ball when I am open," Smoinski said. "Coaches tell me to shoot and the guards do a good job of getting the other guards the ball. Seeing that first one go down is always good. Coach [John] Barnes has great plays for our guards to get us the ball and as you know, we're a 3-point shooting team."
YSU continued its offensive assault in the third period with Smolinski, Chelsea Olson and Deleah Gibson hitting from beyond the arc. The Penguins pushed their lead to 71-21 after three quarters.
Gibson's five points and four more by Dunn helped the Penguins outscore UIC 10-8 in the period to close out their 52-point victory, the sixth largest margin in program history.
Barnes was pleased with his team's defensive effort, especially in the first half.
"I was very proud of the team. I thought they played hard and executed the game plan," he noted. "They're a little bit short on bodies and some of their better players so we knew that we would have to come out early and have a good start, then try to build from there. We did a good job of that and I thought that the team responded well defensively."
The Penguins shut down Flames guard Brittany Byrd, who missed all seven of her shots from the floor. She had seven rebounds.
"We tried to plug up the point as much as possible," Barnes said. "Byrd is an outstanding player, the second-leading scorer in the conference and an all-conference player. We tried to focus on her and make everything difficult and not only did McKenah [Peters] do a nice job, but I thought the rest of the team was focused on where she was."
Gibson (12 points) and Cash (10) were the other two Penguins in double figures while Amara Chikwe hauled in 10 rebounds as YSU held a 46-31 rebound advantage.
Jada Nneji led UIC with eight points.
More like this from vindy.com