Boy Scout Troop 25 recognizes Scouts and hosts troop junior leader training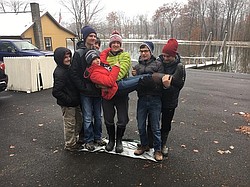 Photo
Neighbors | Submitted.Members of Boy Scout Troop 25 participate in a team building challenge called "Magic Carpet" were the Scouts stand on a tarp and completely turn it over without stepping or falling off of it. Pictured are, from left, Josh Farley, Wesley Rich, Steven Deak, Jacob Kuszaj, Chris Altiere (being carried), Evan McNally and Owen Bowser.
Boy Scout Troop 25 chartered to Canfield United Methodist Church recently recognized Scouts and adult volunteers at their Fall Court of Honor in the Fellowship Hall.
The Fall Court of Honor celebrates the Scouts who have earned rank advancements, merit badges and other awards in Scouting during the summer.
Scoutmaster, Kevin Prus, Sr. served as Master of Ceremonies, and the Court of Honor was opened by the troop's color guard.
Scouts being recognized that evening and their recognitions were Christopher Altiere-Basketry, Luke Bowser, Owen Bowser, Noah Christoff-Fishing, Steven Deak, Prabhmoor Dhaliwal, Owen DiRenzo, Joshua Farley, Andrew Hamilton, John Heino, Cade Henry, Trevor Hykes, Jacob Kuszaj, Evan McNally, Thomas McNally III, Albert Pacella, Wesley Rich and Tanner Tsvetkoff.
Troop 25's upcoming calendar includes the Klondike Derby in January, Advancement Camp in March, participation in the Mill Creek MetroParks Earth Day Cleanup. camping and the Canfield Memorial Day Parade in May and additional activities in the summer of 2019.
More recently, the troop hosted its annual troop Junior Leader Training at Snyder's Farm in New Springfield. This Junior Leader Training was open to all First Class and above Scouts in the troop and is offered for the Scouts to work on their leadership, teamwork and communication skills via group discussions, games and activities. They spoke about what they value most in terms of leadership skills and identified an area of opportunity that they must develop as leaders. They discussed what it means to be a good team member and how to improve those skills. They worked to schedule their monthly patrol meetings and identified an agenda/structure for those meetings.
Following activities designed to reinforce those objectives, they were joined by the rest of the troop, their families, some of the Cub Scout Pack 25 Webelos and their families, and they had a Thanksgiving dinner.
Troop 25 meets every Wednesday evening at 7 p.m. in the basement of Canfield United Methodist Church, located at at 27 S. Broad St. in Canfield.
For more information about the troop and its activities, contact the Scoutmaster, Kevin Prus, Sr. at 330-533-5616. Summer times and locations may change so it is suggested that those interested contact the Scoutmaster ahead of time.
More like this from vindy.com