Boardman Park teams up with Santa for special phone calls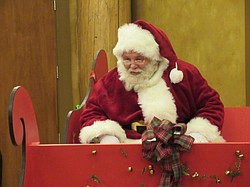 Photo
Neighbors | Jessica Harker.Santa Claus visited community members at Boardman Park Dec. 6. He also worked with Boardman Park employees to call local children on Dec. 12 to talk to them about their Christmas wishes.
By JESSICA HARKER
Boardman Park offered a unique opportunity for local children to have a one-on-one conversation with Santa Claus on Dec. 12.
Park recreation director Karen McCallum said that she was able to create a partnership with Santa to help him avoid long distance phone charges.
"He patches in through the Boardman Park phone lines and is able to contact local children and have a conversation with them about what they want for Christmas," McCallum said.
The service is free for anyone who is local, with no restrictions on the number of children who can apply.
McCallum said that families could fill out a form that they faxed or emailed to McCallum.
She then passed the information along to Santa, who checked his list twice before calling.
"It's encouraging the magic of the season," McCallum said.
The form provides information about the child, what they want for Christmas and even if they have an Elf on the Shelf.
"It is really a cool thing because often children get to see Santa and it's all about taking the picture, but this is the chance to have that personal conversation," McCallum said.
Santa can only make one phone call per family, and will talk to all of the children in the house in one go.
He also only has a couple of minutes to speak with each child, because according to McCallum he has a large amount of people to contact that night.
"It's just a cool personal conversation that children get to have it's just a really cool program," McCallum said.
She said that Santa and his team of helper elfs reach out to every child who signs up for the program.
"Sometimes Santa doesn't know what the toy is and they have to look it up," McCallum said. "He has a whole research team keeping him up to date and the elves are in the back round helping him out."
For more information about upcoming holiday events at the Boardman Park, visit the website at www.boardmanpark.com.
More like this from vindy.com