Multi-talented Olson on a roll for YSU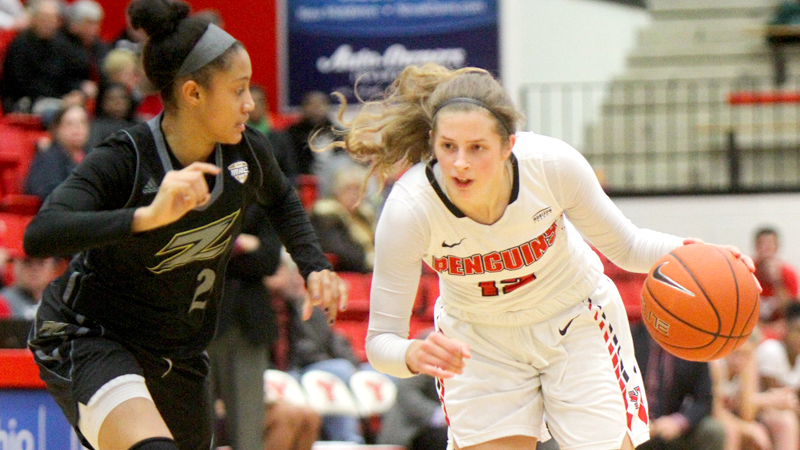 ---
By BRIAN DZENIS
bdzenis@vindy.com
YOUNGSTOWN
Chelsea Olson does a little bit of everything for the Youngstown State women's basketball team.
Switching from a forward role to becoming the Penguins' starting point guard this season, the sophomore has seen her production spike across the board. She is one of several facets going right for YSU (10-3, 2-0 Horizon League), which has won six of its last seven games. At this point last year, the Penguins were 5-8.
"We're having a lot of fun. Our chemistry is the highest its ever been since I've been here," Olson said. "We're liking each other on and off the court and it's been really nice."
The numbers she puts up are nice as well. Olson has scored in double figures in the last four games while serving as the team's best rebounder. She isn't far behind teammate Melinda Trimmer's League-leading 4.8 assists per game at 4.3. On the season, she averages 11.1 points and 8.5 rebounds to go with those passing numbers. She leads the team in steals by a healthy distance with 19.
Her 16.5 points and 10.5 rebounds per game her last two games — both YSU wins — made her the Horizon League's Player of the Week. She's earned some variation of that award for the sixth time in her YSU career.
"With her, the beginning of the year didn't go as well as she would have hoped or how we thought it was going to go," Penguins coach John Barnes said. "She kept working hard. She gets here early working on her shots and her game.
"There's no better time to have your best game than the week you start conference play."
In her first six games, the rebounds were there, but the points weren't as she was shooting 29 percent and she also struggled with turnovers.
"It helps having [Trimmer] come in and handle that role," Olson said. "Early on I was forcing things, but now I'm just letting the game come to me and keep playing my game."
The game Barnes wants Olson and Trimmer to play is to be turnover averse. Among the nine different stats that the Penguins lead the League in, the 1.2 assist-to-turnover ratio is a point of pride for the team.
"We're pretty focused on taking care of the ball and not giving opponents extra possessions," Barnes said. "It's important not just for those two, but the whole team. Those two have been our best at it."
Barnes stopped short of saying Olson has the freedom to attack defenses however she pleases, but there's room to adjust from what he initially calls.
"We're pretty focused on our game plan and I'm [telling] our point guards and everyone out there that if you see something and want to make certain calls, then they're welcome to it if they think it can be effective against a certain type of defense," Barnes said. "I would love it if [Olson and Trimmer] wanted to take it on themselves to change things up or run what they think will work."
The Penguins have a two-game home stand starting tonight against the Illinois-Chicago (2-11, 0-2). Olson will once again be asked to be the primary ballhandler while doing so much more.
"I pride myself in being a player that can do a lot of things on the court, so I just go out there and do whatever I can," Olson said.
More like this from vindy.com