---
By Corey Crisan
ValleyDeals365.com
Valley Deals 365 - Coaches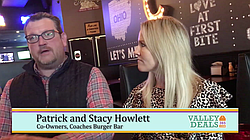 Video
An interview with Coaches' co-owners Patrick and Stacy Howlett. This video feature is from Valley Deals 365 a partnership between The Vindicator and 21 WFMJ-TV. Visit Valleydeals365.com to view this and other deals.
In Partnership with 21 WFMJ-TV
AUSTINTOWN
$20 voucher for $10
Coaches Burger Bar
Locations in Austintown, Boardman, Poland, Salem and soon in Lisbon
Hours: Open daily at 11:00 a.m.
Offerings: Burgers, wings, pizza, fries, and milkshakes
Info: coachesburgers.com
The deal: Valleydeals365.com
Watch our interview with Coaches' owners Patrick and Stacy Howlett on Vindy.com/valleyfood
Not one, two, three, or four… but how about five locations under the umbrella of one brand? Less than four years after establishing as a one-stop location for a burger, an order of fries, and a milkshake, Coaches Burger Bar is living that reality in 2019.
In 2015, owners Patrick and Stacy Howlett established the first Coaches location. In 2019, they will open their fifth in Lisbon.
"We want to grow," Patrick Howlett said. "We love that we started it here in this town, and that we will one day be a national chain that started in Youngstown."
At first glance, "Coaches" sounds like a sports bar. The Howletts have not only spun that concept into a place for signature burgers, but they also have molded it into a family-oriented establishment. The walls are primed with photos and memorabilia from prominent Cleveland, Pittsburgh, Ohio State, and local athletes and coaches.
The Austintown location features multiple shots of Austintown Fitch graduate Billy Price, who played football at Ohio State and was drafted by the Cincinnati Bengals.
ValleyDeals365 Deal #2
"We do have a full-service bar, but we really do try a lot to make it family friendly," Stacy Howlett said.

Patrick added, "We really believe that it's the kids making the decisions a lot for the parents and where they're eating. We are so big on being a family restaurant. ... Having video games, having amazing milkshakes, having great kid's items [and] kids eat free. We want to be one of the first neighborhood family sports bars out there."
The formula the Howletts have followed was not perfected from the start. After a while, Coaches began to expand and hit its stride.
"Having the ability to change and adjust what you're doing is part of this business," Patrick said. After we opened Boardman [location No. 3], I think that's when we really saw a change."
ValleyDeals365 Deal #3
Coaches features a menu full of options. The staples are burgers and milkshakes, including specials revolving monthly. Currently, 14 burger options, plus a "build-your-own-burger" feature, and 10 milkshake options populate it. Additionally, 12 pizza options and six options for salads are offered. Coaches offers the traditional sports bar fare that is supplemented by fresh, homegrown products.
"We have a custom [meat] blend that we have made for us," Patrick said. "It's made fresh twice a week. They are not sitting in a warehouse. ... They are made the day before they get into this building. If our truck comes today, and you're getting that burger, it was made yesterday. That's how fresh our stuff is."
The Youngstown area recognized Coaches, making them an award-winning establishment. In October, Coaches was named The Vindicator's "Reader's Choice" for Favorite Burger. Of all the places to get a burger in the Mahoning Valley, the local product stood out from the pack.
"Everything we buy is made in Ohio," Patrick noted. "Our buns are made in Ohio, and our meat is made in Ohio. We buy Great Lakes cheese. ... Everything on a cheeseburger is made in Ohio, and we're real proud of that."
Each Coaches location is open daily at 11 a.m. For location information, the full menu, and to place orders, visit coachesburgers.com.
More like this from vindy.com